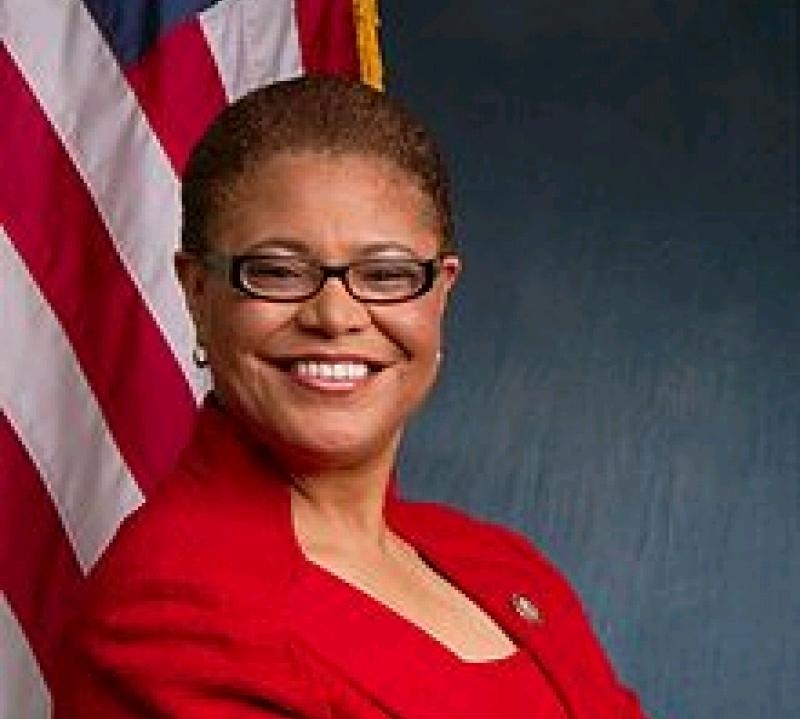 Fifty-three members of the United States Congress have urged the Department of Homeland Security to stop deportations, of legitimate asylum-seekers, including Cameroonians, fleeing state oppression and mass atrocity crimes due to widespread violence.
On November 16, 2020, the lawmakers introduced a simple resolution into Congress urging the United States to uphold its commitments under international treaties related to refugees and asylum-seekers and halt deportations of Cameroonian citizens.
Karen Bass, Representative for California's 37th congressional district, is the sponsor of the resolution. She is a Democrat. The resolution introduced into the House of Representatives was referred to the Committee on the Judiciary, and in addition to the Committee on Foreign Affairs, for a period to be subsequently determined by the Speaker, in each case for consideration of such provisions as fall within the jurisdiction of the committee concerned.
Congressmember Karen Bass (D-CA), Chair of the House Foreign Affairs Subcommittee on Africa, along with 52 other members of Congress, urge the Department of Homeland Security to immediately provide for alternatives to detention for these asylum-seekers, except in cases where a determination is made that such individuals pose a significant risk to public safety.
The lawmakers say asylum-seekers and other immigrants should be given access to clear information on their rights and obligations regarding their ongoing legal proceedings, case management, and health services (including testing) in a time of COVID–19.
"We urge the Department of Homeland Security Office of the Inspector General, to immediately investigate allegations of civil and human rights violations committed against Cameroonian individuals in the custody of ICE at the Adams County, Winn, and Jackson Parish Correctional Facilities," the resolution read in part. "And immediately pause the removals of all potential victims or cooperating witnesses of alleged civil and human rights violations until such an investigation is complete."
Karen Bass and her fellow members of Congress call on the Government of Cameroon to respect the fundamental rights of all Cameroonian citizens, including those removed from the United States under orders of deportation, political activists, and journalists.
They call on the international community to use diplomatic tools to address the root causes of conflict and displacement, including by pursuing accountability for war crimes and investing in peace-building initiatives.
On October 28, Senators Chris Van Hollen, Christopher A. Coons, Edward J. Markey, and Benjamin L. Cardin wrote to the Honorable Chad F. Wolf, Acting Secretary of Homeland Security, U.S. Department of Homeland Security, urging him to block the deportation of Cameroonian asylum-seekers until violence ebbs away in the North West and South West Regions.
Cameroon's state forces have been battling to dislodge armed separatists who pitched their tents in the North West and South West Regions since Anglophone protests transformed into an armed conflict in 2017.
Corporate demands by Common Law Lawyers and Anglophone Teachers led to protests in November 2016. The street demonstrations later morphed into ongoing running gun battles between state forces and armed separatist fighters in the predominantly English-speaking regions, leading to untold destruction of human lives, their habitats, and livelihoods.
Tit-for-tat killings, kidnappings, arsons, maiming, and outright terror have become part of daily lives in some parts of the English-speaking regions.
International NGOs say the conflict has forced hundreds of thousands of people out of their homes – as internally displaced persons and as refugees.
Members of the Cameroonian diaspora are known to be directing the separatist movement, with most of the ringleaders living in the United States.
On November 6, 2020, Tibor P. Nagy, Jr., Assistant Secretary, Bureau of African Affairs said the Cameroonian diaspora in the United States can and must play a critical key role to end the violence in Cameroon.
"We encourage you to use the power of your voices in a constructive manner to promote peace as you engage with Cameroonians worldwide, the U.S. government, Congress, and on social media," said Nagy. "We count on the Cameroonian diaspora in the United States to participate constructively in addressing its concerns about Cameroon. We will not work with groups – or attend diaspora-organized events – that include calls for violence or hate speech."
The U.S. diplomat reminded the Cameroonian diaspora that their plan to break Cameroon's North West and South West regions and create a state christened Ambazonia is utopian.
Hear Nagy: "The United States supports the territorial integrity of Cameroon and calls for all actors to peacefully address the long-term grievances driving the current conflict in the Northwest and Southwest Regions and to cease exacerbating the hardships experienced by civilians in these regions.
"The United States government considers the Cameroonian diaspora a critical community that can push for meaningful change in Cameroon to address long-term grievances, support the safety of humanitarian workers, get children back to school safely, and bring an end to the fighting that has led to untold suffering."