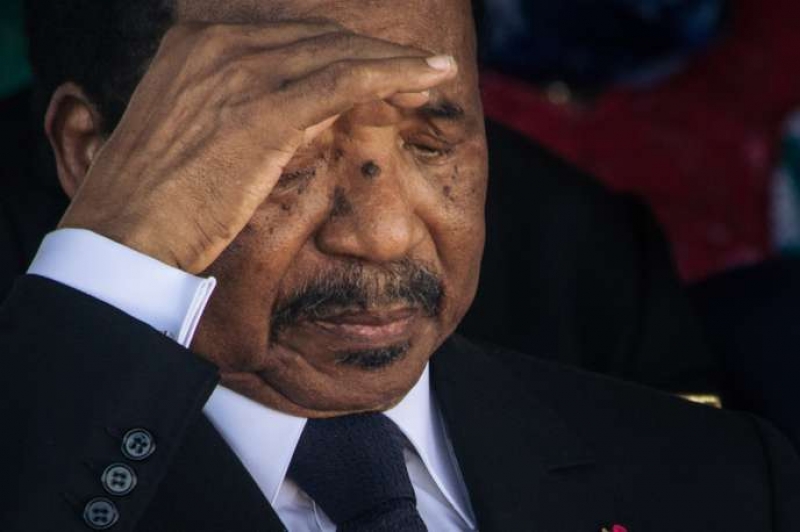 The Head of State, President Paul Biya currently on a private stay in Europe since Sunday has addressed his condolences to the Governor of the West region, Awa Fonka Augustine following the death of 21 persons in an accident along the Baoussam-Douala highway last Sunday.
In a letter dated Tuesday, June 25, 2019 and read on state radio, President Paul Biya says he is grieved by the shocking news.
"I learned with real emotion, the sad news of the death of about twenty passengers in a car accident that occurred in the locality of Lagoué, a kilometre away from Baham," the President said, adding that he has given "instructions to the Government for diligent and effective intervention and assistance, as well as to assess the situation."
In the wake of the tragedy, President Biya extends his heartfelt condolences to the bereaved families and a speedy recovery to the wounded.
On Sunday June 23, 2019, a violent head-on collision between a passenger bus and a truck left 21 persons dead and 16 injured.
The accident occurred near Baham in the Upper Plateux Division of the West Region of Cameroon, precisely at a locality called Lagoué along the Batié-Baham stretch of the Bafoussam-Douala motorway.
Eyewitness accounts say it was about 4:00pm Sunday that the incident occurred. A 30-seater bus with registration number NW284 AF belonging to SINCERITE Travel Agency heading to Douala collided with a truck with registration number OU 629 AO. The bus reportedly had 37 persons on board.
21 persons including the driver of the two vehicles are said to have died on the spot of the incident while 16 others were injured. One person has not been accounted for.
It perturbed traffic along the Bafoussam-Douala highway for hours. Upon receiving information of the tragic occurrence, West Governor Awa Fonka Augustine rushed to the scene.
"The driver of the coaster bus was on the opposite side and eventually came in collision with this truck. As a result, there was this accident which we have registered so far 21 deaths," the Governor said at the scene of the accident.
The injured cases were rushed to the Baham District Hospital and the Bafoussam Regional Hospital.
Witnesses however say excessive speed, overloading and carelessness on the part of the bus driver are to blame for the bloody accident.
Road accidents in Cameroon account for an average of 1200 deaths every year with material damage estimated at over CFAF 100 billion, the Ministry of Transport revealed late last year. According to a statement by the ministry issued while marking second anniversary of "Road Safety Communication Days", such accidents result in 4,000 to 5,000 injuries, including dozens of people disabled for life. The Douala-Yaoundé and Yaoundé-Bafoussam-Douala axes are the most accident-prone, with nearly 70 percent of accidents, the statement said.
Auteur: