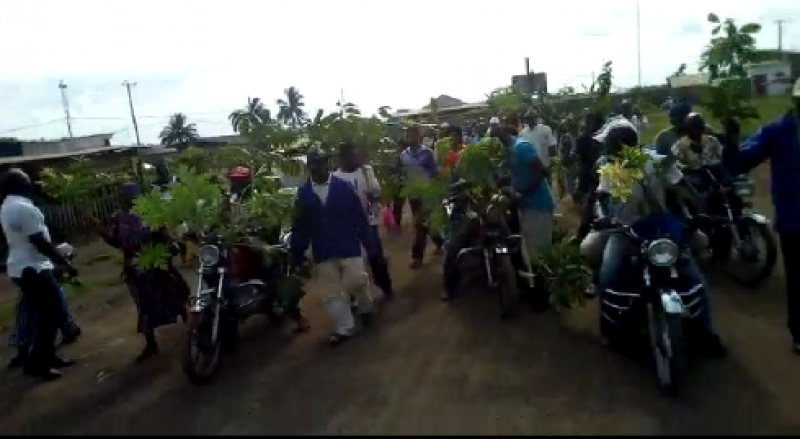 Workers of the Cameroon Development Corporation, CDC, staged a street protest in Tiko Tuesday, November 19, 2019 demanding months of unpaid wages as the company suffers under the weight of the crisis rocking the country's North West and South West Regions.
Drawn from the Technical Services Department and the Rubber Factory in Tiko, the workers seized the good offices of the Divisional Officer for Tiko to intervene in finding solutions to their plights.
The security challenges notwithstanding, the workers say some of them have been working but have not had pay.
Franklin Ngoni Njie, General Manager of the agro-industrial company in a press release Wednesday said the company's management is taking steps towards paying wages for the month of September 2019.
"The General Manager of the Cameroon Development Corporation, CDC, recognizes the plight of workers who are confronted with untold suffering as a result of the impact of the ongoing socio-political crisis. Workers of some Units in Tiko took to the streets yesterday, November 19, 2019 to express their grievances," the presser reads in part.
Njie adds that: "The present upheavals come at a time when Management is making all efforts and has put in place concrete measures to gradually commence with the payment of wages for the month of September 2019."
The General Manager used the release to thank the workers for their perseverance and steadfastness in the face of this difficult time in the life of the Corporation.
Hear him: "Management equally appreciates the Administration and Security Forces for standing by the CDC in these difficult times. General Management enjoins all the workers to remain calm and hopeful as we continue to look up to the State who is the sole owner of the CDC to provide a lasting solution to the problem.
"While we empathize with the workers, it is worthy to remind ourselves that this precarious situation brought by the crisis in the South West and North West Regions will only find a lasting solution through our progressive and uncompromising resolve to resume work on the Estates. General Management calls on the entire workforce to continue to work collaboratively towards CDC's common goal, which is resuming work in the plantation."
Cameroon-info.net recalls that 10 workers of the CDC were attacked last October 14, 2019 by armed men believed to be of the Non-State Armed Group fighting to make of Cameroon's North West and South West Regions an independent state called Ambazonia.
According to a release from the agro-industrial company at the time, the workers were attacked at the Camp Six Residential Quarters in Sonne, along the Tiko-Douala Road in Tiko Subdivision, Fako Division. While four of the ten workers were taken into captivity by the armed men, one was maimed with a machete while five others were mercilessly beaten. Those taken into captivity were later freed while the others are convalescing.