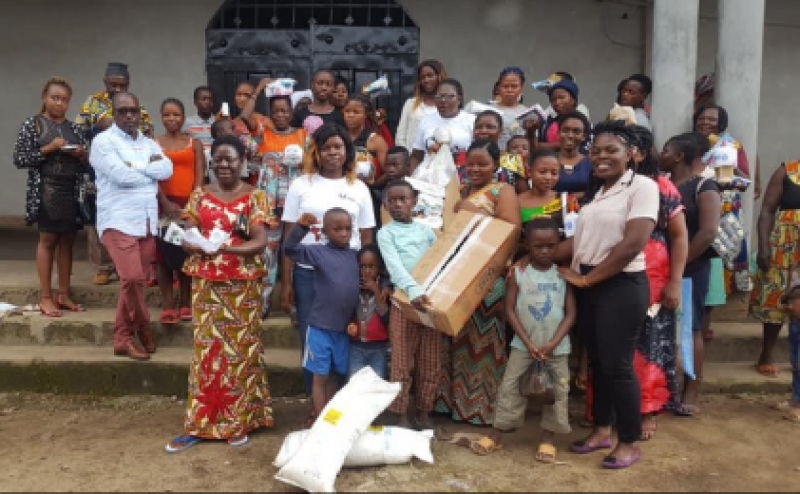 The Centre for Human Rights and Democracy in Africa, CHRDA, Thursday, August 15, 2019 carried out a humanitarian outreach to some Internally Displaced Persons (IDPs) in Ndongo-Wokoko, a locality in Molyko Village Buea, South West Region of Cameroon.
A statement from the organisation run by Barrister Nkongho Felix Agbor aka Agbor Balla says Thursday's visit was aimed at encouraging the IDPs, especially the women who are amongst the most vulnerable group, to maintain their calm while hoping for lasting solutions to the ongoing crisis rocking Cameroon's North West and South West Regions.
On the occasion, the women received some food and non-food items which were donated to the Center by Association Femmes Actantes. In addition, some prenatal vitamins were distributed to pregnant women and albendazole for children.
The women greatly appreciated the items and also shared some of the challenges they face living as IDPs, a CHRDA statement said.
CHRDA notes that since the Anglophone crisis started in 2016, over 500,000 persons have been internally displaced, with women and children constituting the most vulnerable population.
The number of internally displaced persons as a result of the crisis in the North West and South West regions of Cameroon has increased according to the Centre for Human Rights and Democracy in Africa in a detailed report released at the close of last year.
The CHRDA said there was an upsurge of internally displaced persons as well as burnt down settlements as a result of the persisting crisis. They say no fewer than 210 villages have been torched by belligerents.
At the time, CHRDA said about 274,908 are internally displaced in the North West region while 278,867 are displaced in the South West region, making it a 74% increase from the last census.
Aside scaling up her humanitarian response to the socio-political crisis, CHRDA is championing a campaign for schools to resume come September 2, 2019 after three years of school boycott.
"Education is the best option for the future of our children. It is the key to a bright future of not only ours but also of our beloved nation. Education offers both inner and outer strength. It is the fundamental rights of everyone and capable of bringing any desired change and upliftment in the human mind and society. Allow our children walk the path that leads to success- education," read a CHRDA dated August 13, 2019.