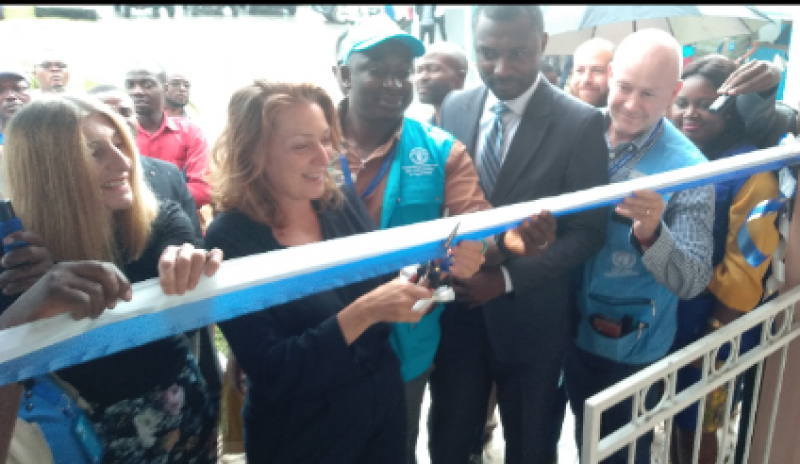 Ms. Allegra Del Pilar Baiocchi, United Nations Resident and Humanitarian Coordinator in Cameroon has launched an appeal for more support for the unsung humanitarian crisis rocking Cameroon's North West and South West regions. Only 21 percent of what is needed is got.
She was speaking in Buea Saturday, August 17, 2019 during an advanced commemoration of World Humanitarian Day 2019 under the theme, "honouring women humanitarians".
In Cameroon, for two years now and counting, the humanitarian situation has continued to worsen, Allegra said. Despite being the most affected by the crisis, she says women in the North West and South West regions have shown resolve and resilience to deal with the precarious humanitarian situation.
"Their efforts are not only limited to ensuring that assistance reaches thousands of displaced persons. They have also raised their voices to call for a ceasefire and proposed solutions to the current crisis. The South West and North West Women's Task force amongst many women operating with INGOs, NGOs and faith-based organizations have shown their determination to contribute to alleviate suffering of affected populations, including by making suggestions and supporting the efforts of national authorities.
"We need to salute the efforts of these courageous women, some of whom, having seen their husbands and children kidnapped or killed before their very own eyes, still find the courage to stand up, speak out and bring help to the most affected," she said.
After assessing the humanitarian conditions in Kumba in the Meme Division of Cameroon's South West Region, Allegra Baiocchi proceeded to inaugurate the UN Common Office in Buea where she hoisted the UN flag.
It was at the campus of the Pan African Institute for Development West Africa in Buea that she delivered her commemoration speech in which she said the humanitarian situation in the restive Anglophone regions is dire.
"It is a known fact that humanitarian needs in the North West and South West continue to outpace available resources. While the humanitarian community is upbeat about the increasing access to help those most in need, it is important to recall that out of 4million affected persons, 1.3million are in serious need of assistance," said Allegra Baiocchi.
The United Nations Resident and Humanitarian Coordinator furthered that the ongoing humanitarian response efforts target a total of 820.000 persons. "Over 530.000 people remain internally displaced within the affected regions but also in neighboring regions such as the Littoral and West regions. Due to these displacements, over 374.000 people are in need in host communities."
She regretted that the constantly deteriorating security situation has affected humanitarian response, citing the recent case of two vehicles carrying food aid burnt in Pinyin.
Let me use this opportunity to emphasize that humanitarians are not combatants and should not be targeted no matter the circumstance, she said.
The UN chief recalls that in 2008, UN General Assembly Resolution A/RES/63/139 established 19 August as World Humanitarian Day with a view to strengthening the coordination of emergency humanitarian assistance while also honouring aid workers that have lost their lives in the line of duty.
Hear her: "It is also important to mention that since the tragic event in Bagdad in 2003 which led to the death of the Special Representative of the UN Secretary-General for Iraq, Sergio Vieira de Mello and 22 aid workers, more than 4,000 aid workers have been killed, injured, detained or kidnapped.
"That is an average of 300 fellow humanitarians killed, detained or injured every year. This goes contrary to the principle of humanitarian aid as humanitarians are always the first on ground when a crisis erupts, seeking to take care of those affected. In the same way, we must also condemn in the strongest terms, attacks against civilians who, according to international law, should be protected rather than maimed and killed."
Ms. Allegra Baiocchi quotes Under-Secretary-General for Humanitarian Affairs and Emergency Relief Coordinator Mark Lowcock as saying in a statement on August 17, 2018 that: "Governments and non-State armed groups have clear legal obligations to protect civilians and civilian infrastructure, protect aid workers and ensure the safe and unimpeded passage of supplies in armed conflict,…It is imperative that we hold men with guns and power accountable when civilians and aid workers are illegally targeted."
Ms. Allegra Baiocchi firmly re-echo the above statement as she called on all parties involved in the conflict to ensure unimpeded access of humanitarian aid to the affected communities.
"As we celebrate World Humanitarian Day 2019 with focus on women humanitarians, I want to assure all of you (our partners) of the continued support of the United Nations System in Cameroon. To women humanitarians, your efforts are most recognized and much appreciated. Despite the odds and the challenges we continuously face, we must never relent in our efforts to put smiles on the faces of those who look up to us every minute of every hour, every day," said Ms. Allegra Del Pilar Baiocchi.
She would later visit exhibition stands mounted by humanitarian stakeholders in the South West region.