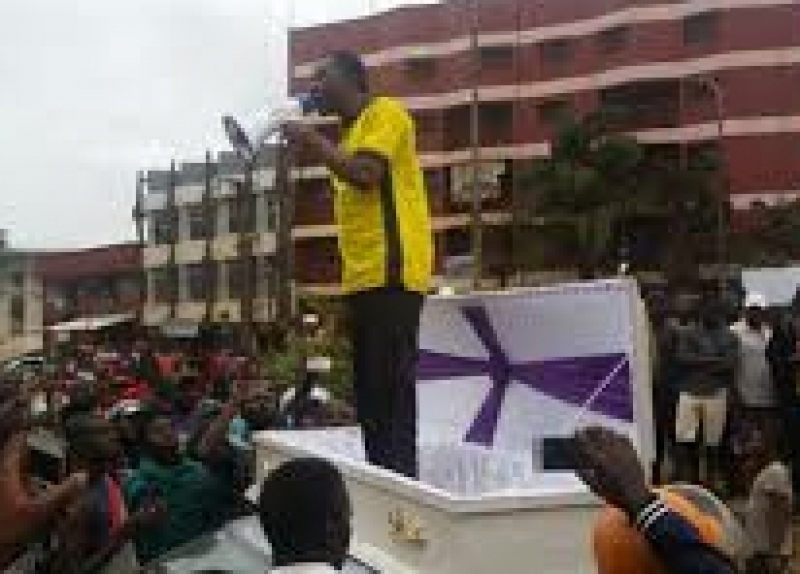 Defending lawyers of Anglophone activist, Mancho Bibixy Tse have appealed against the 15 year sentence dished out to their client.
Mancho is expected to appear at the Yaoundé Appeal court this Thursday, April 18. Although this seems as some good news to his followers, some people opine that this can rather lead to a judgement that will see Mancho, spend his life time in jail like most Cameroonian criminal appeal cases do.
He is known to have provoked what is now termed the "coffin revolution", where in an attempt to condemn the abandoned road projects amongst many others in his native town Bamenda, he mounted a coffin to decry injustices on Anglophones and declared he "came along with his coffin, so that after talking, if I am killed, let them place my body in it and bury me", said Mancho during in November 2018 at Liberty Square City Chemist, Bamenda.
On May 25, 2018, the Military Tribunal in Yaoundé sentenced Mr. Bibixy to 15 years in prison and a fine of 268 million francs CFA (approximatively 408 564 Euros) - 64 million as damages requested by the civil party and 204 million as damages requested by the State, on charges of acts of terrorism, hostility against fatherland, secession, revolution, propagation of false information, contempt of public bodies and public servants, resistance, depredation by band, failure to hold his national ID card and insurrection. All these, under the law on the Suppression of Acts of Terrorism, No. 28 of 2014 and the Cameroonian Criminal Code.
The sentence came after eighteen months of arbitrary detention and a trial( considered unfair by many observers),during which the hearings were postponed under different pretexts for more than fourteen times.
Mr. Bibixy is currently detained at the Kondengui central prison. known as BBC), is a journalist of Abakwa FM, a local radio station in Bamenda. Through his programmes, he criticised government and its deployed administrative workers, for undermining the development of his home town Bamenda.