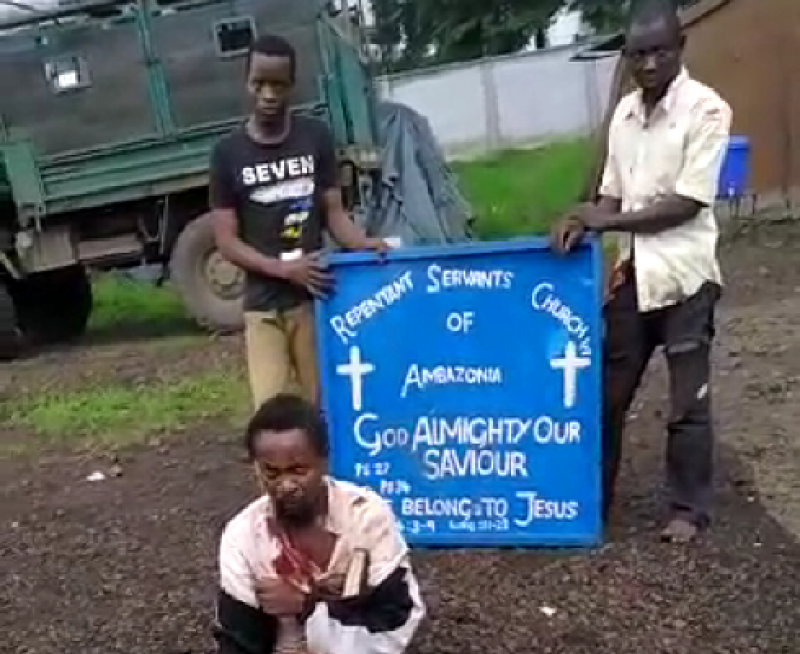 At least seven persons are said to have been killed when soldiers stormed the "Repentant Servants Church of Ambazonia", a local congregation loyal to the separatist quest for a putative state called Ambazonia.
Locals say security forces invaded Mautu, a village in Muyuka Subdivision, at 11:30 a.m. Thursday, August 13, 2020, in response to a 'provocative' video recorded on Wednesday showing the church answerable to the "Ambazonia government".
The self-proclaimed prophet of the Repentant Servants Church of Ambazonia was arrested along with some of his aides while others who attempted to escape were reportedly 'neutralized'.
Those arrested were taken to the Gendarmerie Legion in Buea as investigations continue.
Asked by soldiers why he had decided to create such a church, the pastor said he had been directed by God. He is shown in a video at the premises of the gendarmerie legion with two amba flags placed before him. Two persons believed to be his aides stood behind him brandishing the signboard of their church.
The owner of the church had raised an Ambazonia flag over his church, claiming that it was an instruction from God. He is quoted as saying that God had given him the task to declare the independence of the dream country as well as to lay its foundation.
A notorious rebel leader in Mautu known as Gabonais had on Wednesday, August 12, 2020, recorded a video showing the Repentant Servants Church of Ambazonia with a separatist flag raised over it.
"Fellow Ambazonians. Today is Wednesday, August 12, 2020. Location XXX. This is an Ambazonia flag that was raised today August 12, 2020, by a prophet of God. According to his story, he said that God has shown him and entrusted him with the task to lay the foundation stone of Ambazonia," said Gabonais, who fights for the Fako-Meme Black Tar Council. "The prophet of God had declared that Ambazonia has been liberated by God."
In the said video, voices of children and adults could be heard singing from the makeshift structure that hosted the 'separatist church'.
"Forces today in their numbers attacked Mautu and shot dead at least 7 civilians [although other sources say the victims are separatists]. An Ambazonia house of God was attacked and occupants tortured, murdered, and abducted," Belgium-based Cameroonian activist, Mark Bareta tweeted.