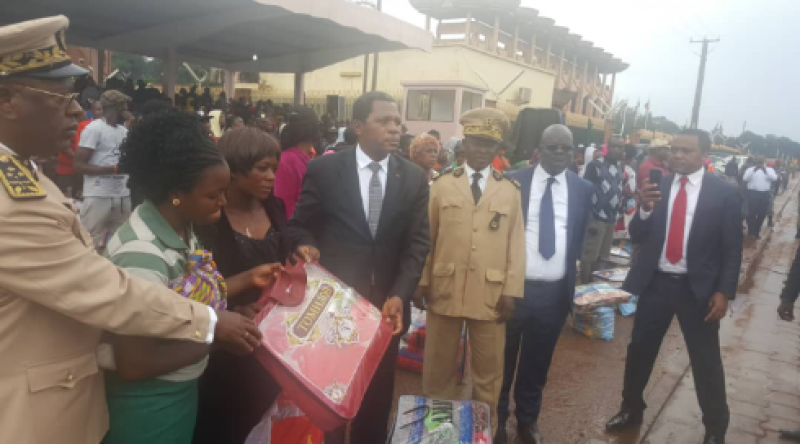 Hundreds of internally displaced persons, IDPs, fleeing the socio-political upheavals in Cameroon's North West and South West Regions have received succour from the President of the Republic, H.E. Paul Biya represented by the Minister of Territorial Administration, Atanga Nji Paul.
The Minister was in Bafoussam Wednesday, September 18, 2019 to hand over the items which constitute phase two of the Head of State's Emergency Humanitarian Assistance Plan in favour of the civilian population of the two restive regions, victims of violence and other abuses perpetrated by Non-State Armed Groups.
For the second time in three weeks, Minister Atanga Nji was on hand to personally distribute assorted items to the IDPs who turned out in their numbers. The gesture is part of the on-going second phase of the distribution of emergency humanitarian assistance to persons affected by the socio-political crisis in the two English speaking regions, and who have moved to find refuge in the West region.
The items distributed to IDPs in the Mifi Division include: 850 blankets, 850 mattresses, 250 cartons of soap, 100 cartons of mackerel and truckloads of rice.
On behalf of the thankful IDPs, Gideon Ebua sent words of gratitude to President Paul Biya through his personally representative, Minister Atanga Nji Paul for sparing no effort at meeting their immediate needs while they hope to be self-reliant and to return home.
The representative of the IDPs said their wish is to see a return to peace in their homelands, especially as the Head of State has convened a Major National Dialogue acclaimed by a cross-section of the national and international public opinion.
In response, the Territorial Administration Minister said the government is aware of the difficulties of IDPs, reason why the Head of State ordered that the distribution of relief materials be given a giant boost.
Minister Atanga Nji regretted the fact that a young woman was buried alive in Guzang in Batibo Subdivision by "terrorists" last Monday, reason why a minute of silence was observed in honour of her memory. The Minister went on to promise that her killers will be brought to book. He asked the IDPs to enrol their children in schools where they are living as he thanked the people of Bafoussam for their legendary hospitality.
Three weeks ago, the Minister was in Bafoussam, Dschang, Foumbot and Kouoptamo to hand emergency relief supplies to IDPs. Wednesday's ceremony was aimed at attending to those who did not receive aid the last time. The exercise will continue until all IDPs are reached, officials say.