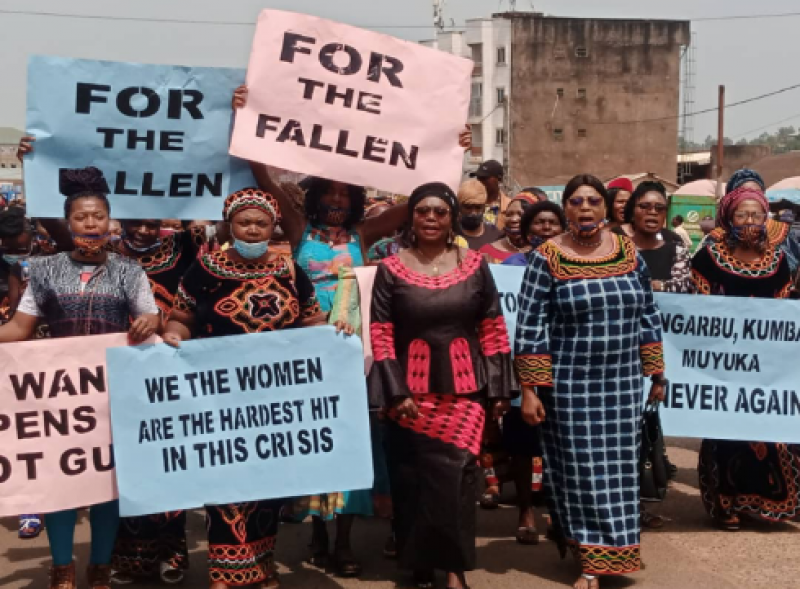 'Mafor' Judith Yah Sunday epse Achidi, General Manager of Cameroon Telecommunications, CAMTEL, led dozens of Queen Mothers, affectionately referred to as 'Mafors' to mourn victims of the ongoing socio-political situation in the country's North West and South West Regions.
When the Queen Mothers of the North West, under the aegis of Mafor Yah Sunday Epse Achidi, converged on the Bamenda Commercial Avenue Grandstand Tuesday, November 24, 2020, they condemned in strong terms the killings that have become the order of the day since the crisis escalated in our two Anglophone regions.
The Mafors and the mothers of the region, with placards in hand, cried and prayed God in their various local languages while pleading with the belligerents to sue for peace.
"They took a short walk on the commercial avenue to show their indignation brandishing placards with very touching messages," said journalist Ta Shey Ndinwa Benedict.
Dignitaries present at Tuesday's protest included Hon. Mbongyor Naomi Ngando, Member of Parliament for Donga-Mantung Center (Ndu); Hon. Injoh Fo'o Ngang Prudencia, MP for Momo East (Mbengwi) and Hon. John Kum, MP for Menchum North as well as the Divisional Officer for Bamenda II, Nicolas Nkongho Manchang.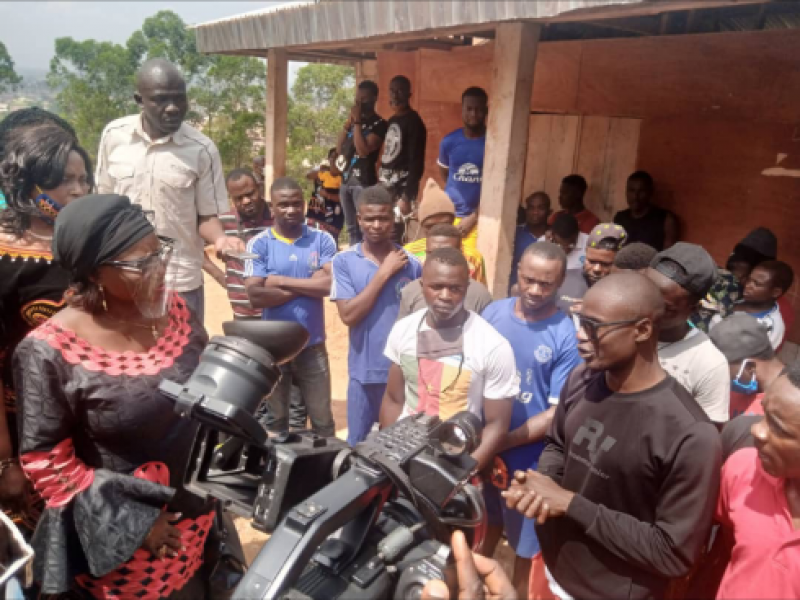 Mafor Yah Sunday epse Achidi in her usual maternal style made a stop at the Disarmament, Demobilisation, and Reintegration (DDR) Centre in Bamenda to encourage ex-combatants to lure their friends out of the bushes.
"You know your brothers and sisters who are still in the bushes because you all lived in the bushes together. Plead with them that we all want peace. They should come out. Nothing will happen to them. They will be forgiven. Note that nobody has the right to take away the life of another," Mafor Judith Achidi told the repentant separatist fighters in a motherly tone.
In tandem with the customs and traditions of the people of the North West, she did not go empty-handed. She handed them a consignment of foodstuff, laundry soap, toiletries, and other basic commodities.
Mafor Yah Sunday epse Achidi equally assured them of her determination to support them in their social reinsertion drive.
Visibly very happy, the inmates promised to be ambassadors of peace by aiding the government to attract separatists to drop their guns.