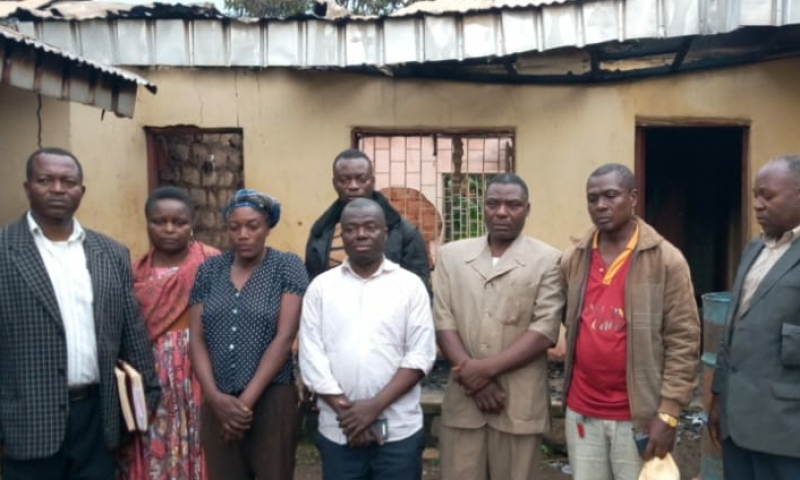 The Military has been accused of burning down some houses in Mile 8 Mankon, North West region, after two of theirs were killed by armed separatists in that locality.
Some owners of these houses have been counting their losses following this attack. A pastor of the Cameroon Baptist Church Reverend Tah Charles who runs the Berean Baptist Church in the area, is amongst those affected. His house was reduced to ashes, following a mission led by the military to hunt down separatists.
Family, friends and other church leaders have been to his vicinity this Thursday May 16, to console him and reassure him of their support. One of those who paid the consolatory visit, is the Senior Pastor of Musang Baptist Church, Reverend Ngangkeng Eric, followed by some Christians.
Ambazonia fighters killed two soldiers in Mile 8 Mankon on Wednesday, May 15. This led to a retaliation and man-hunt exercise from the military said to have destroyed several houses, a local clinic and cars amongst others.B rigadier General Agha Robinson today called for greater collaboration between the military and the population. He asked the population to give their greatest assistance to the military and continue to count on them for their protection.
Civilians in the Anglophone regions have been accused of collaborating with armed separatists, making it difficult for the army to fish them out their enemies, and win the ongoing war.
This attack comes few days after Prime Minister, Dr. Dion Ngute, was on a peace mission to Bamenda, and dialogues with some members of the civil society, political parties, journalists, trade union representatives amongst others.
He however made it clear that the Head of State, President Paul Biya has approved the holding of a dialogue platform to solve the ongoing problem, with a condition that separation is not amongst the issues discussed.
Separatists want to form an independent state they call Ambazonia and have been battling against the Cameroonian army, to the disadvantage of civilians, who are caught between the two.
Auteur: