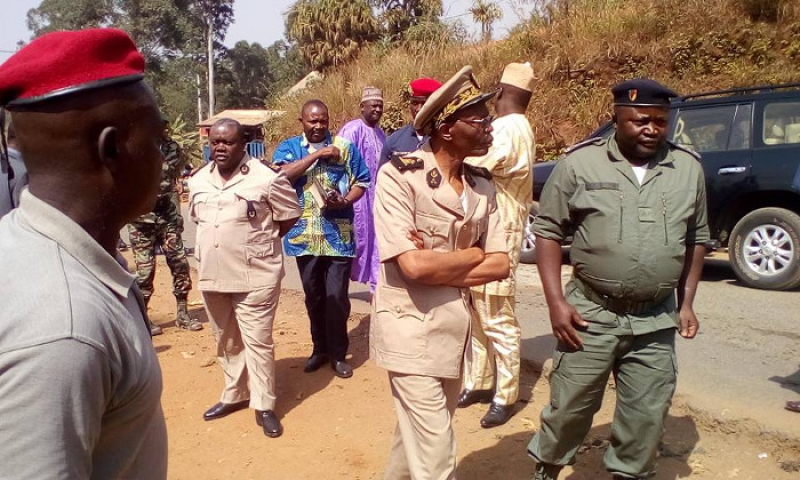 North West Governor, Adolphe Lele Lafrique says perpetrators of the violent killing of a teacher in Bamenda, will be brought to book.
In a communiqué issued this May 22, the governor also said investigations have been opened to trace the remaining parts of Mr. Wountai Vondou Olivier, who was beheaded by separatists, and his head dropped at Mobil Nkwen Bamenda on Tuesday, May 21.
He extended words of condolence on behalf of President Paul Biya and the Minister of Secondary Education, to the family of the deceased, while calling on inhabitants of the North West region, to shun fear and collaborate more than ever, with administrative authorities and security forces to denounce suspects and perpetrators of terrorist acts.
To him, the persons above are trying to frustrate the peace process that has been engaged by Government to bring a lasting solution to the ongoing sociopolitical crisis.
Panic gripped business persons and passersby in Nkwen, when the head of Wontai Vondou Olivier, rolled out of a bag to the streets. Gunshots followed suit and led to complete shut down of the town.
A video filmed by his murderers has been uploaded on social media, where he struggles to beg for his life to no avail. In the video, showing the victim has been tortured and sustained wounds, his torturers tell the Ambazonian Interim government that they have caught the spy and will cut off his head and dump in Nkwen. Any attempts made by the victim to plead and explain, were futile. He was mistakenly for a soldier with the Cameroonian military.
Mr. Wountai, 31 year old said to come from Guider was a teacher in GBHS Nitop, but due to constant attacks in the school, it was shut down and he moved to GBHS Ntamulung and Bamendankwe, all in Bamenda, where he taught a mixture of history and geography.