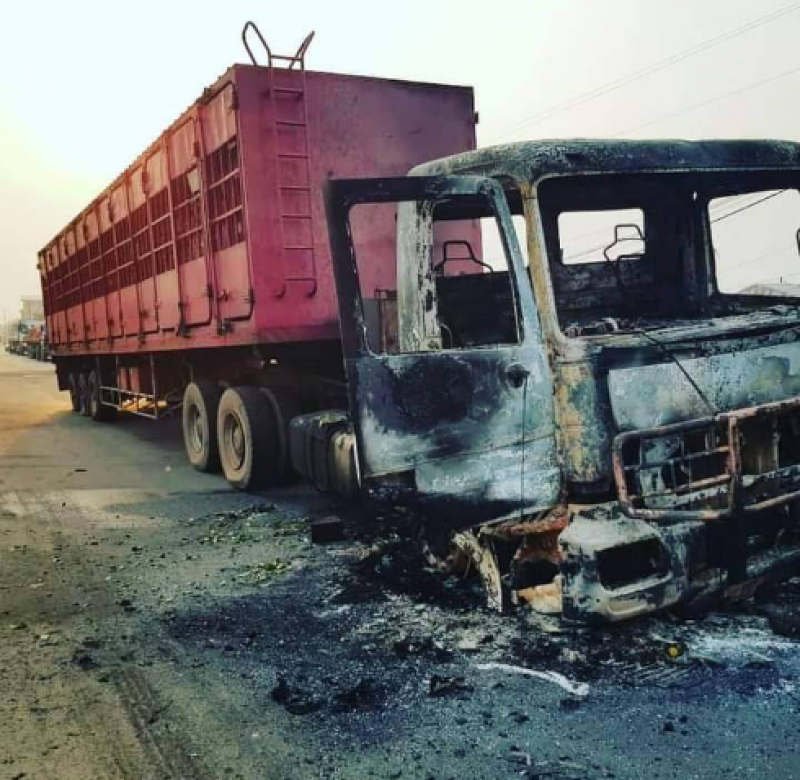 New abuses in Cameroon's Anglophone regions by both government security forces and armed separatists highlight the urgent need to protect communities at risk and to hold those responsible for abuses to account, Human Rights Watch said today.
"Cameroonian security forces killed two civilians, raped a 53-year-old woman, destroyed and looted at least 33 homes, shops, as well as a traditional leader's palace in the North-West region on June 8 and 9, 2021," Human Rights Watch said in a statement Monday, August 2, 2021. "Armed separatist fighters in the South-West region killed a 12-year-old boy on June 6, and a 51-year-old teacher on July 1. Further, on June 25, separatist fighters in the North-West region kidnapped four humanitarian workers and held them overnight."
"Cameroon's security forces have an obligation to lawfully counter-attacks by armed separatist groups, and protect people's rights during periods of violence," said Ilaria Allegrozzi, senior researcher at Human Rights Watch. "But yet again, we learn that they have responded to the threat from separatist groups with attacks on civilians and serious human rights violations of their own."
Human Rights Watch reports that since the Anglophone crisis began in late 2016, government forces have regularly committed serious human rights violations during security operations against the armed separatists fighting to create an independent Anglophone state of "Ambazonia."
It says the recent uptick in violations came amid renewed clashes, with the army spokesperson reporting that security forces were involved "in at least 30 heavy gun battles with separatists in June."
Between June 12 and 23, Human Rights Watch said it conducted telephone interviews with 10 victims and witnesses to human rights violations by security forces, as well as with 18 relatives of victims, journalists, and civil society activists.
Human Rights Watch says it also interviewed a family member of the teacher killed by separatist fighters. Human Rights Watch corroborated victim and witness accounts with photographs the victims provided.
According to the human rights NGO, victims and witnesses said that in the very early hours of June 9, about 150 security force members from both the regular army and elite Rapid Intervention Battalion (Bataillon d'Intervention Rapide - BIR) conducted a security operation in and around Mbuluf village, North-West region. As the forces approached the village on foot, fearful residents fled to the nearby bush.
Human Rights Watch spoke to two Mbuluf residents who said that security forces stopped their group of six – a husband and wife, their two children, another man, and another woman – in the vicinity of the village.
The wife said that the soldiers stopped the group as they were fleeing at around 1 or 2 a.m. The soldiers asked the couple where the separatist fighters were. "We said we didn't know," she said. "They said my husband had a gun. We said we had no gun. They said they would kill us, and then one of them raped me."
"Other soldiers threatened and beat both men, the wife, and another member of the group. The soldiers then forced all six people to walk for about two hours to Ndzeen village," reads the report. "When the soldiers arrived in Ndzeen, they broke into, damaged, and looted at least 33 shops and homes, including the residence of the fon (a local traditional authority)."
"They desecrated my palace, damaging traditional artifacts, including the ancient royal throne and an ancestral chair, and entered into the sacred and secret areas of the palace, where none have access to," the fon said. "They ransacked and scattered the royal regalia. It is a shame."
BIR soldiers, Human Rights Watch recalls, previously attacked and looted a world heritage site, the Royal Palace in Bafut, North-West region, in September 2019. Military officials had however said they did not attack the Bafut Palace.
The security forces are reported to have continued to Mbah village on foot, about another two hours away, taking the group of six people with them.
"In Mbah they released everyone except the 58-year-old husband of the rape survivor. His body was found on June 11, shot in the mouth, through the head, in Tatum village, about 30 kilometers from Mbah," said Human Rights Watch.
The Human Rights Watch report reads further: "On June 8, at about 7 p.m., in Gom village, North-West region, two soldiers in civilian clothes, whom a witness recognized as regular army soldiers from the Gom military base, broke into the fon's home, harassed the eight people there, including a 72-year-old man whom they beat. At about 7:30 p.m., they questioned and then shot Nwang Lydia, a 60-year-old woman, in the right leg after she failed to provide information about a separatist fighter.
"Her neighbor, the 72-year-old man who had been beaten, said that the assailants forced him and his wife to carry Lydia in the direction of the Gom military base for questioning. They carried Lydia as far as a bridge about two kilometers from her house, when the soldiers told them to leave her there. The soldiers then killed Lydia with a gunshot to the chest. Lydia's relatives recovered her body from the bridge the following morning."
On July 15, Human Rights Watch said it emailed its findings to the army spokesperson, Commander Atonfack Guemo, requesting responses to specific questions. But Guemo did not reply.
Separatist fighters up attacks against civilians
The United Nations Children's Fund (UNICEF) reported that on June 6, members of an armed group attacked a religious center in Mamfe, South-West region, "killing a 12-year-old boy and wounding a 16-year-old boy."
On July 1, local media reported that suspected separatist fighters killed Fuh Max Dang, a physics teacher at Government Bilingual High School in Kumba, South-West region. Human Rights Watch spoke to a relative of the deceased, who said that separatist fighters had previously threatened the teacher, warning him that he would face consequences if he did not stop teaching.
Human Rights Watch has previously documented widespread separatist attacks on education, including against teachers, students, and schools. Separatists have ordered government schools in the region to close.
International media also reported that at least six civilians were killed in Kumbo, North-West region, on June 12, "when an explosive device planted by [separatist] fighters detonated."
"The crisis in the Anglophone regions has had a devastating impact on civilians, but those responsible for serious abuses have yet to face any consequences," Allegrozzi said. "Cameroon's authorities should investigate and prosecute the attackers and their commanders, while the UN Security Council and other regional and international partners should impose targeted sanction against those responsible for the grave human rights violations."