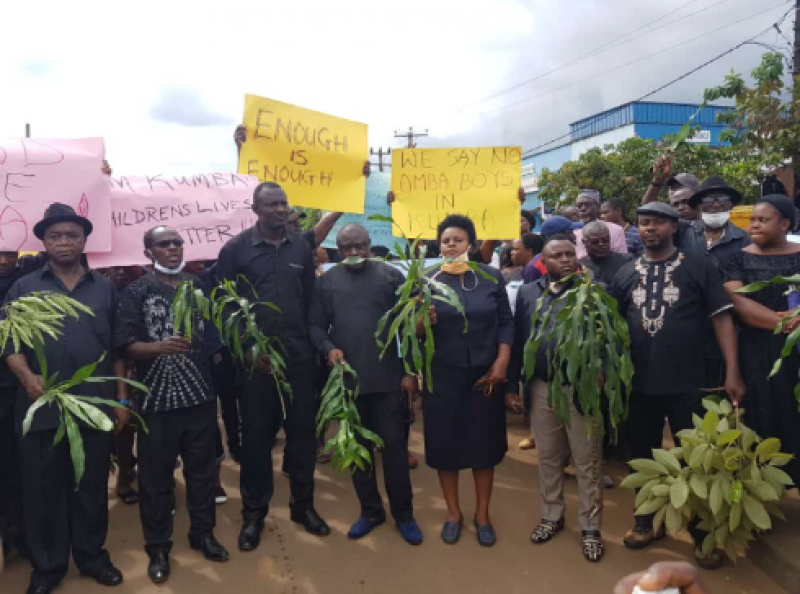 Large crowds from the ends of Kumba flooded the streets this Sunday to demonstrate against Saturday's killing of at least seven students at Mother Francisca International Bilingual Academy Fiango.
In Kumba I, the crowd radiated for blocks from the CPDM party hall. In Kumba II, protesters began their march from the office of the Divisional Officer and in Kumba III, the marchers for peace gathered at the Amusement Park – the convergence point for today's march.
The solemn march was led among others by the newly elected City Mayor of Kumba, Gregory Mewanu, the Mayors of Kumba I, II, and III sub-divisional councils, and Nfon Mukete IV Ekoko. Civil administrators, traditional rulers, politicians, clergy, women, men, and children were all part of today's march.
Messages on placards denounced the killing of innocent students. Some of the placards read: "Enough is enough", "We need pens, not guns", "Lives of Kumba children matter", "We say no to Amba boys in Kumba", "We say no to violence".
Cameroon-Info.Net recalls that around noon on Saturday, gunmen attacked Mother Francisca International Bilingual Academy Fiango, Kumba. State authorities say they opened fire on no fewer than 19 students, killed at least six, and badly wounded about 13 others.
In the classroom where the Form One students were killed lies the brain of one of the victims. It is believed she was shot on the head at close range. The floor is all covered with coagulated blood just like the walls and blackboard are stained with blood.
"I saw some of their shoes on the floor. One left behind a red Mickey Mouse jacket. Then, at the center of the class, I saw a water bottle and a food container standing lonely on a desk," said journalist Blaise Eyong. "Most of the victims were girls. Authorities told me the students were between the ages of 12 and 14. This was their first year in secondary school and they had only studied for two weeks."
The Divisional Officer for Kumba I, Ali Anougu, the Senior Divisional Officer for Meme Division, Chamberlain Ntou'ou Ndong, and the Minister of Communication, Emmanuel Rene Sadi blame armed separatists for the attack.
The students killed include 11-year-old Victory Camibon Ngameni, 12-year-old Anamgim Jenifer, 12-year-old Ngemone Princess, Che Telma Nchangnwi, 9-year-old Zakame Rema, Chema Syndi, and 12-year-old Renny Ngwane who died in hospital Sunday morning.
The condition of two victims operated at the Buea Regional Hospital Annex is said to be stable. The death toll in the school shooting thus stands at seven. Of the 12 victims in the hospital, six are said to be in intensive care.
The President of the Republic, Paul Biya is said to have ordered an investigation into the killing and instructed the Prime Minister to authorize a field mission by cabinet ministers to Kumba.