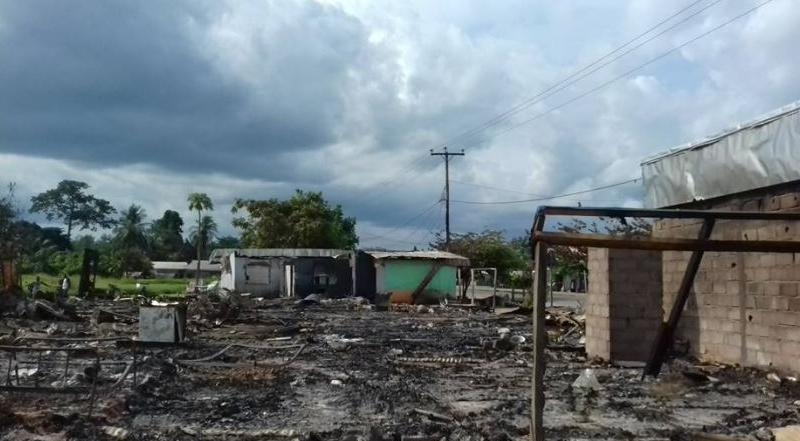 Konye was a no go zone Tuesday May 22, 2018. The Subdivision found in Meme Division in the South West region was the centre of gun battles between separatist fighters and Defense forces. The fighters attacked and burnt public buildings while the military responded by burning houses of civilians.
The new office of the Divisional Officer was the target when armed men believed to be Ambazonia fighters stormed Konye Tuesday afternoon shooting indiscriminately in the air.
They attacked Telca Cocoa and set the store ablze including the office of the Kumba town credit Union, Konye Council business centers were also destroyed by the fighters.
Military response was also dramatic as they also shot indiscriminately; burning down houses and killing civilians, a boy of about 18 years old was shot dead around Kokaka-Konye. Reports say the young boy was in the bush with his friends where they have taken refuge, but he boy left the bush for the village where he wanted to collect some items used in preparing food but as he approached the village, he was shot dead.
On Wednesday May 23, 2018, military invaded two villages in Njikwa Subdivision, Momo Dvision in the North West region. They descended on villages of Oshie and Ngwo early Wednesday burning down houses, market stalls and surrounding houses.
They made same act in Ngwo and burnt down shops at the central market including that of a popular business man in the village.
Several people have fled into bushes as gunshots rattled throughout the night of Tuesday breaking Wednesday.
The military's actions comes just few days after men suspected to be Ambazonia fighters visited the two villages killing some Gendarmes caused others to flee. It also precedes the burning of a brewery vehicle around evil forest in Momo Division.
Auteur: