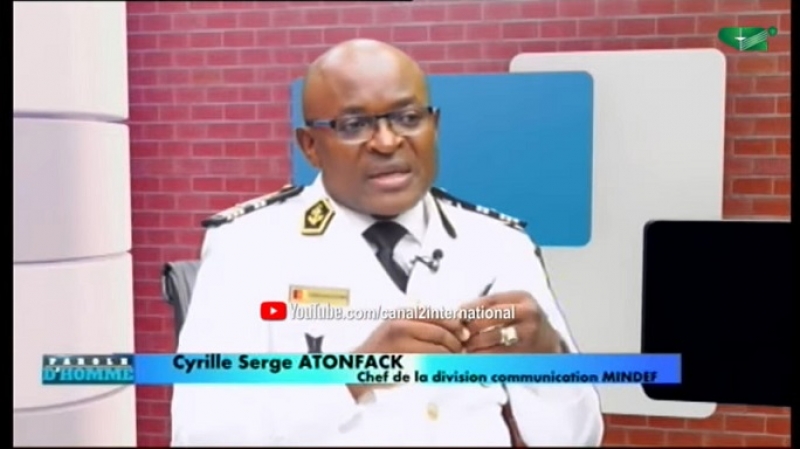 Navy Captain Atonfack Guemo Cyrille Serge, Cameroon's military spokesman and Head of Division of the country's ministry of defense Tuesday released the government's version after state forces killed an unarmed man in Bamenda.
Although locals protested the killing of Ngoran Djibiring Dubila and described him as "an innocent civilian", the military spokesman said the deceased had links with separatists.
Navy Captain Atonfack says the incident happened in the afternoon of Sunday 4th July 2021, at about 2:30 pm, and the venue was Below Foncha in Nken, Bamenda where a mixed security checkpoint is located.
"The military spokesman writes: "In actual fact, during a routine check, a suspicious driver, by name Ngoran Djibiring Dubila, driving a TOYOTA brand vehicle (white land cruiser), registration number CE 250 BF, panic-stricken, engaged in a brutal car escape manoeuvre, at the precise moment when he was asked to stop his vehicle.
"In his flight, he was stopped by deterrent gunshots which unfortunately hit him fatally. The family of the deceased buried him on the morning of Monday, 5th July 2021, at the Ngomgham municipal cemetery in Bamenda 2.
"Initial findings helped to establish with certainty that an arrest warrant had been issued against the deceased on 24th November 2020 by the President of the Bamenda Military Tribunal, following judgment No. 18/2020 of 4th November 2020 sentencing him to 03 years imprisonment and 565,950 CFA Francs in fines and accumulated damages for inciting secession and issuing conditional threats.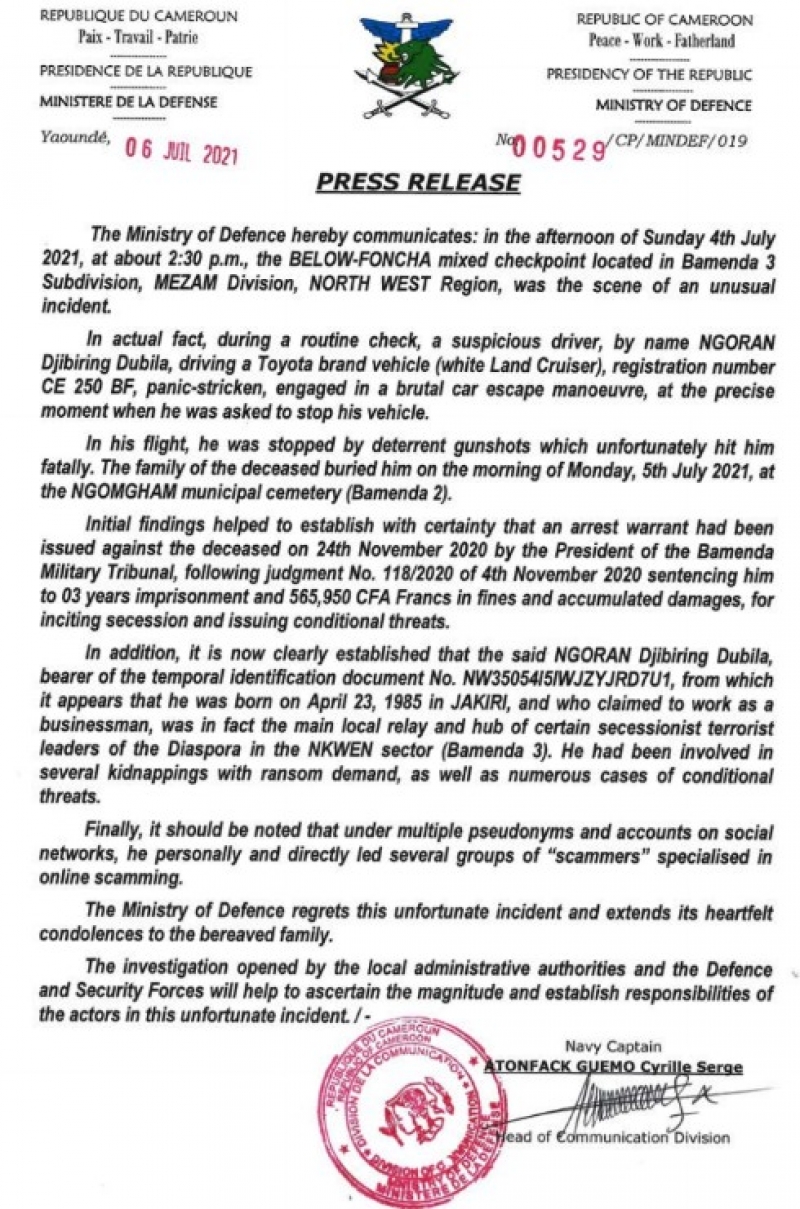 "In addition, it is now clearly established that the said Ngoran Djibiring Dubila, bearer of the temporal identification document no. NW35054151WJZYJRD7U1, from which it appears that he was born on April 23, 1985, in Jakiri and who claimed to work as a businessman, was in fact the main local relay and hub of certain secessionist terrorist leaders of the diaspora in the Nkwen sector (Bamenda 3). He had been involved in several kidnappings with ransom demand, as well as numerous conditional threats.
"Finally, it should be noted that under multiple pseudonyms and accounts on social networks, he personally and directly led several groups of 'scammers' specialised in online scamming.
"The Ministry of Defence regrets this unfortunate incident and extends its heartfelt condolences to the bereaved family.
"The investigation opened by the local administrative authorities and the Defence and Security Forces will help to ascertain the magnitude and establish responsibilities of the actors in this unfortunate incident."
Many are those who have picked holes in the statement rolled out by the ministry of defence. They wonder how someone convicted by the courts was still walking free eight months after. That the ministry of defence sent condolences to the bereaved family remains intriguing. Others wonder how the military spokesman arrived at Tuesday's press statement when he acknowledges that investigations to ascertain magnitude and establish responsibilities were ongoing.