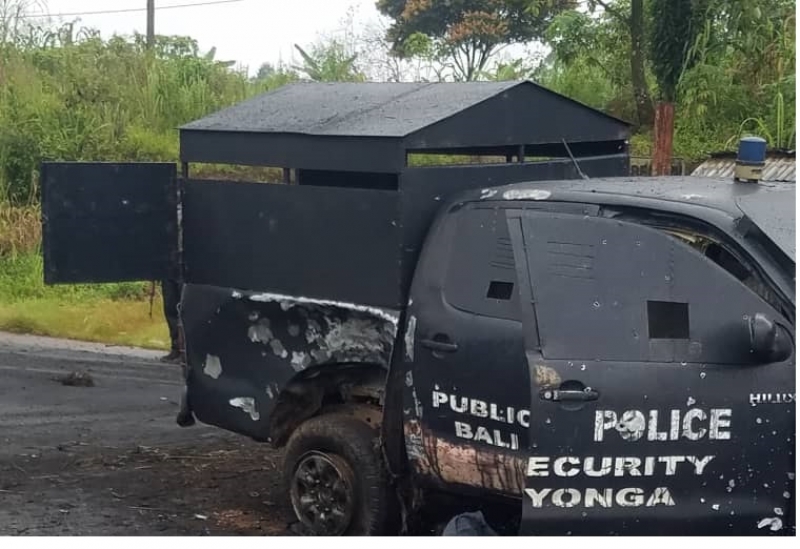 Simon Emile Mooh, Senior Divisional Officer for Mezam Division in Cameroon's North West Region has prohibited the circulation of motorbikes in Bali subdivision for a period of three months renewable.
The ban is contained in a prefectural order signed Tuesday, July 20, 2021. The administrative officer says the decision is based on the exigencies of security and public order.
"That with effect from the date of signature of this Order, the circulation of Motor Bikes is hereby prohibited in Bali Subdivision, Mezam Division, North West Region for a period of three months renewable," said Mooh in a document made public Tuesday.
He warned that any person or group of persons who contravenes this order shall be punished in accordance with the provisions of the regulations in force.
"That the Divisional Officer for Bali Subdivision, the Company Commander Gendarmerie Bali, and the Commissioner of Police Bali are each in their respective spheres charged with the strict implementation of this order," said Mooh. "That the present order shall be registered and communicated wherever and whenever necessary."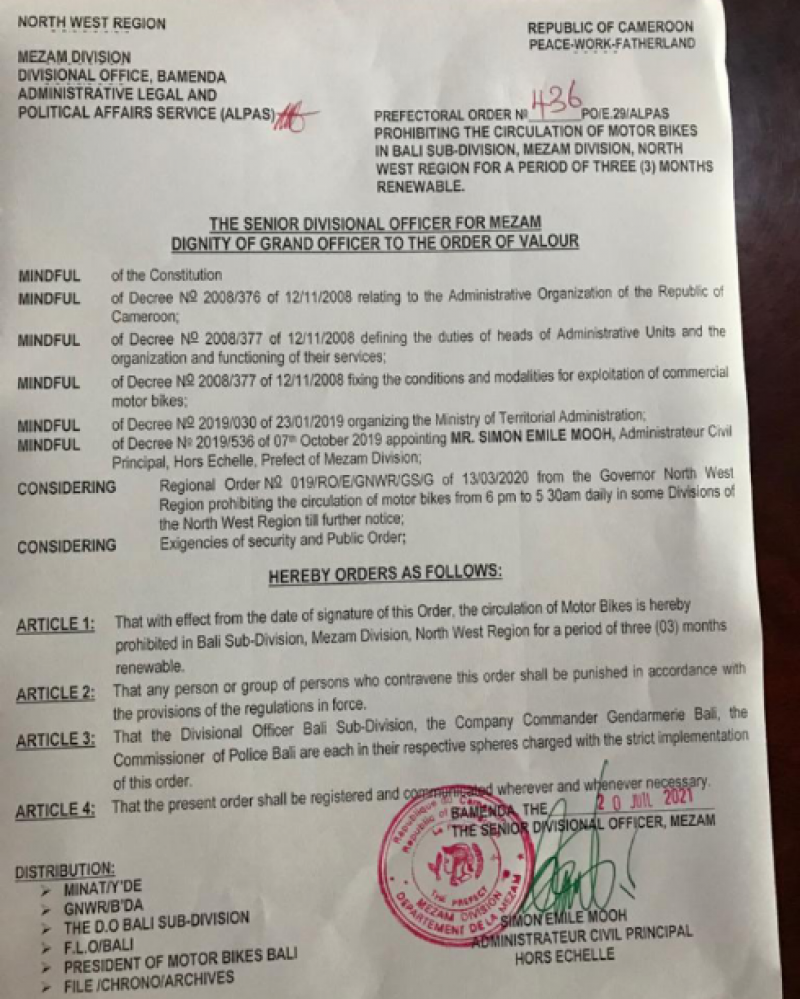 Although the Senior Divisional Officer did not precise the incident that prompted the ban on motorbikes, pundits believe that it is not unconnected to a separatist ambush on uniform officers days back.
A video on social media suggests that on July 18, armed separatists ambushed and killed no fewer than five policemen and destroyed their vehicle around T -Junction in Bali Subdivision. Ambazonia fighters in Bali Nyonga detonated an Improvised Explosive Device (IED), rendering the police pickup immovable before firing shots at it, the video indicates.
The armed separatists who carried out the attack presumably made away with guns, helmets, identity cards, and other security paraphernalia.
Last week, reports say fighters of the non-state armed group operating in Bali burned down a security facility.
It is believed that the order prohibiting the circulation of motorbikes in Bali will improve the security situation given that armed separatists are known to use motorbikes.
Cameroon-Info.Net recalls that on March 13, 2020, Governor Adolphe Lele Lafrique Tchoffo Deben signed an order prohibiting, indefinitely, the circulation of motorbikes from 6 pm to 5:30 am daily in some divisions of the North West Region.
Cameroon's state forces have been battling to dislodge armed separatists who pitched their tents in the North West and South West Regions since Anglophone protests transformed into an armed conflict in 2017.
Corporate demands by Common Law Lawyers and Anglophone Teachers led to protests in November 2016. The street demonstrations later morphed into ongoing running gun battles between state forces and armed separatist fighters in the predominantly English-speaking regions, leading to untold destruction of human lives, their habitats, and livelihoods.
Tit-for-tat killings, kidnappings, arsons, maiming, and outright terror have become part of daily lives in some parts of the English-speaking regions.