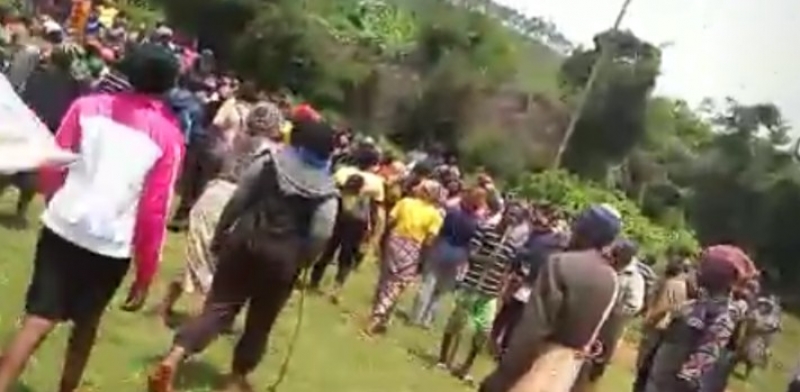 The population of neighbourhood in Pinyin, Santa subdivision of the North West on Monday, May 13 stood up against a suspected gang of separatists, also known as Amba boys, as they attempted to kidnap one of theirs.
Sources in Pinyin say the said gang of at least eight men have been carrying out criminal activities and exploiting villagers through kidnappings, where they ask for ransoms.
Having had enough of their activities, these villagers couldn't take it any more and all rose against the boys. One of them who filmed the act and sent on social media, shouted out that, "This is the end of Amba boys in Pinyin". The perpetrtors were arrested, beaten and handed over to the military.
Excesses of some separatist groups are pushing communities to reveal their hideouts or rising up against them, which was formally the contrary. Their leaders in the diaspora have constantly disputed reports that fighters are carrying out criminal offences against those they claim to protect. They often claim these attacks are carried out by a government sponsored group.
However, the increasing wave of crimes in the North West and South West pushed many neighbourhoods to create vigilante groups, in order to fight back perpetrators of frequent robbery attacks who claim they are Amba fighters.
Many of these quarters are using whistles to raise alerts, in case one of them is in trouble. One month ago, community members of Ntasen and Mancho in Bamenda held security meetings, where they agreed to step up security.
" Yes, we are just from a security meeting with the quarter head and some notables. We have formed a vigilante group too. Every landlord contributes 1000FRS each monthly and every tenant 500FRS .This is to help assist our boys who would be out during the curfew hours.", said one of the residents. Most of them complained they are attacked almost everyday and their attackers come prepared to take a life, if you don't cooperate.
"Men armed with guns and machetes, attack quarters in the night, ask you to open your door and or if they are the ones who finally open it, they would shoot you or cut off your arms. Once inside, they ask for all the money you have in the house. They do the search themselves and take your money", a victim narrated.
Recent reports suggests some of these robbery attacks lead to sexual harassment and rape.