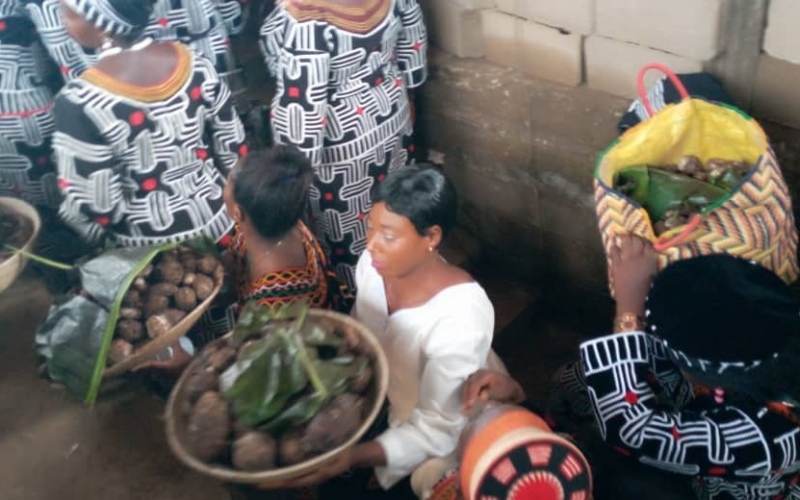 A ceremony to rally, identify and assist Internally Displaced Persons(IDPs), from the Fondom of Kom, Boyo Division of the North West region, took place on Sunday in Bamenda and Yaoundé.
For the first time, the Queen Mother of Kom left her palace, for Yaoundé and Bamenda, following an ongoing war that has led to several displaced persons from the land of Kom to the North West regional capital and nation's capital.While donating her quota to the displaced persons in a ceremony led by her representative, the Queen Mother through a speech encouraged those who have been assisting displaced people, and urged them to live in love, peace and Unity.
" The breastmilk and food which you are sharing here today is a token of my love to you. By this same token, I empower all my children to share the love and develop love attitudes towards all and sundry, irrespective of colour, race or tribe. Let our incessant love for one another, flow beyond geographical, racial and tribal lines. Let us be each other's keeper".
She called on all sons and daughters of Kom to emulate her values by being truthful, honest, kind and proactive. She asked them to shun bitterness, discrimination, hatred, jealousy, dishonesty and other harmful traits.
The food items contained the traditional "baby cocoyam" meal called alang-a-wain, which she indicated that she harvested from her farm in Laikom. She urged them to accept the gifts, though to her, very small in quantity, they should use it to soften their hearts as the crisis persists.
Since the Anglophone crisis became bloody, a wave of killings and attacks took place in Boyo division, which led to the displacement of several people. Many couldn't bury their love ones, due to the constant gun exchanges between military and armed separatists. Till date, Kom is feared for harbouring one of the biggest groups of armed separatists, as the crisis ensues.
An Elite of Kom, Secretary General to the Bamenda City Council, Jude Waindim, explained that it was quite unusual for the Queen Mother to be displaced but the situation couldn't keep her in the palace.
"For the Queen Mother herself to be displaced, it has never been heard in history. We are lucky that of the many Fondoms, especially the Paramount Fondoms in the grassfield, the Fon of Kom is still in his palace. But most of the Fons have gone out of their palaces. And must of the children of the Kom Fondom are out of the land. It is not a joking matter. The magnitude is huge", said Ntumfoyn Waindim Jude. "And you can imagine that the Kom community in Bamenda, hosts thousands of people who have been displaced just like 40km away from here. Can you imagine that it is 10 months now, I, Ntumfoyn cannot even go to Kom. I think enough is enough and I think its time for us to see this stop".
The effects of the Anglophone crisis is enormous on the people of Kom, as women have not be able to go to the farm(their main source of income), parents are unable to take care of their kids, businesses are shut down.
Auteur: