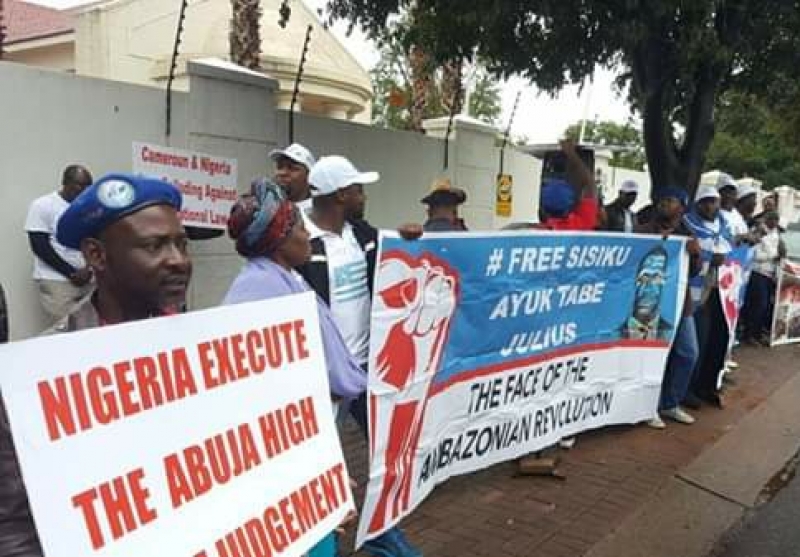 Reports say at least one hundred Cameroonians from the crisis hit North West and South West regions have asked the Nigerian government to respect an Abuja court decision, ordering the released of some detained Anglophone leaders, arrested on Nigerian soil.
These Southern Cameroonians werethis Friday, at the Nigerian embassy in Pretoria, where they staged a protest, asking the country of Mohammadou Buhari, to implement the court's decision, that asked the government of Nigeria, to bring back Secessionist leader, Sisiku Ayuk Tabe and others, to Nigeria and also implement a compensation to these members, in line with the Geneva convention.
The court in March, condemned as "illegal and unconstitutional" the arrest and deportation of Cameroonian separatists who had applied for asylum in Nigeria.
In January 2018, Nigeria arrested and sent back 47 Anglophone separatists who had fled Cameroon following a crackdown by the authorities. Few weeks later, Nigerian officials sent the group back to Cameroon.
This move was denounced by the United Nations refugee agency, UNHCR, which said most of them had filed asylum claims. It accused Nigeria of breaching international agreements.
For months, the 47 were held in isolation at a high-security facility at police headquarters in Yaoundé. The Yaoundé Military Tribunal opened a trial against Ayuk Tabe and nine others for "terrorism" and "secession".
Many Cameroonians are anxious about the outcome of the case, which many believe might prolong the current crisis or lead to the creation of a genuine political dialogue platform, to see an end to the current suffering in the North West and South West, affecting other parts of Cameroon as well.
Till date, separatists have been calling for ghost town in the Anglophone regions, every Monday afternoon in protest against the detention of their leaders amongst many other grievances.