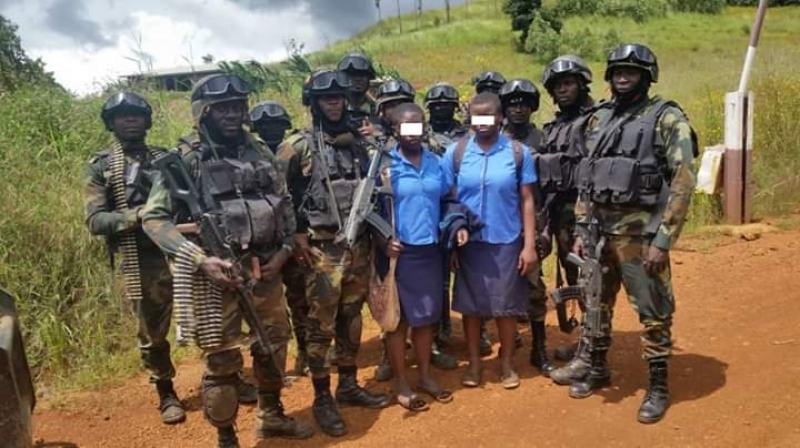 Cameroon's military has reported the liberation of two students of GBHS Nkambe taken into captivity Monday, October 14, 2019 by armed men believed to be loyal to the quest for a state they call Ambazonia.
The military says on Monday morning around 08:30, two unidentified individuals kidnapped two students who were on their way to Government Bilingual High School (GBHS) Nkambe.
"Alerted, the Nkambe patrol quickly deployed to the scene and raked with the help of Bororo guides. The kidnappers will be caught more than 4km away with the 02 students," read a post on 'Honneur et Fidélité - Armée Camerounaise', a Facebook page believed to be run by the country's defense and security forces.
The military reports that before securing the freedom of the students, it killed the kidnappers who refused to surrender.
The Facebook page attributable to the military said: "Refusing to obey the summons, the two kidnappers will be neutralized and the 02 hostages released. It should be noted that the people of Nkambe have chosen to send their children to school and are determined to turn their back on the sellers of illusions that are the separatists. No lockdown, no ghost town!"
A picture that accompanied the Facebook post shows two girls clad in their school uniform standing with elements of the Rapid Intervention Battalion (BIR), an elite unit of the country's military.
Cameroon-info.net got news of the said abduction Monday. The source said, "Yes, two girls kidnapped around 8.00am at the entrance to GTHS Nkambe. Directly opposite the sign board at the entrance on the Binju Tabenken road, before you reach GBHS Nkambe. The students were going to GBHS Nkambe and were whisked off by alleged Amba boys who laid an ambushed at the entrance to the forest to late Nji Mbunkur's residence. They took the children towards Njimtfu at the farms, changed their uniforms and were heading to their camp before the interception of the security forces and some youths of the community. Shooting has been going on there after the rescue for some time now."
At press time, the Non-State Armed Group referred to as Ambazonia Fighters or separatists were yet to issue a statement.