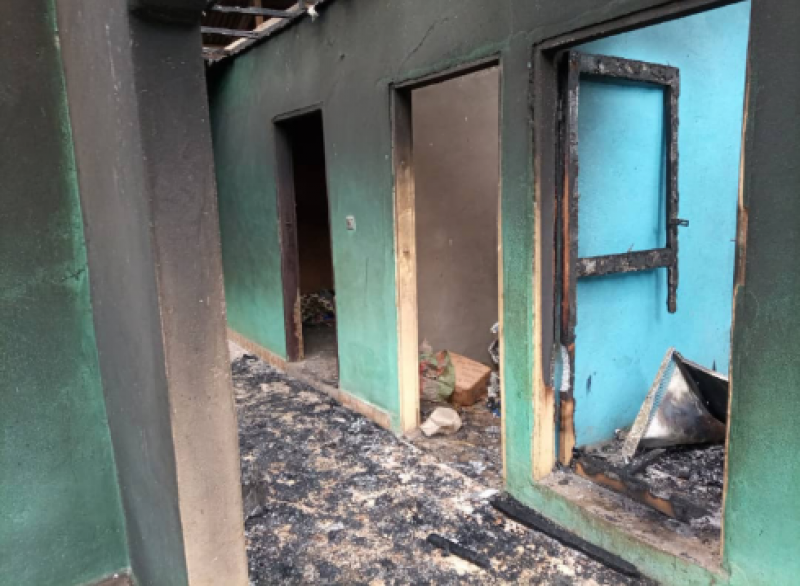 The death has been announced of His Royal Majesty Molinga Francis Nangoh, the traditional ruler of Liwuh La Malale village in Buea subdivision, Fako division of Cameroon's Southwest region.
Sources within the ranks of the Fako Chiefs Conference say suspected armed separatist fighters murdered Chief Molinga Francis Nangoh around 7:30 p.m. on Friday, November 6, 2020.
CRTV reports that Chief Molinga had just finished a crisis meeting with some members of his community around 7:00 pm when unidentified armed men stormed his palace and shot him in cold blood.
"The palace was burnt down to ashes after the murder," sources familiar with the incident say.
The mortal remains of Chief Molinga Francis Nangoh have been preserved at the mortuary of the Buea Regional Hospital Annex.
He was recognized as the third-class traditional ruler of Liwuh La Malale exactly five years ago following decision no. P.O.N056/AP/G37/C83/1AP/SAAJP of October 20, 2015.
Visiting the scene Saturday afternoon, Hon. Malomba Esembe, Member of Parliament for Buea Urban regretted that another life has gone unjustly.
"It is an affront to the sacredness of human life, to the solemn nature of traditional institutions and to the anguish of the people of this town, this region and the whole country who are still morning the innocent children massacred in Kumba," the MP said.
Chief Molinga Francis Nangoh is the second traditional ruler in Buea subdivision to have died because of the worsening armed conflict in Cameroon's North West and Southwest Regions.
In July 2018, armed separatists kidnapped eight Buea chiefs, including Chief William Njie Mbanda, the traditional ruler of Lysoka Moliwe Village in Buea Subdivision, who died on Friday, July 27, 2018, while in captivity.
Cameroon's state forces have been battling to dislodge armed separatists who pitched their tents in the North West and South West Regions since Anglophone protests transformed into an armed conflict in 2017.
Corporate demands by Common Law Lawyers and Anglophone Teachers led to protests in November 2016. The street demonstrations later morphed into ongoing running gun battles between state forces and armed separatist fighters in the predominantly English-speaking regions, leading to untold destruction of human lives, their habitats, and livelihoods.
Tit-for-tat killings, kidnappings, arsons, maiming, and outright terror have become part of daily lives in some parts of the English-speaking regions. Members of the Cameroonian diaspora are directing the separatist movement, with most of the ringleaders living in the United States.