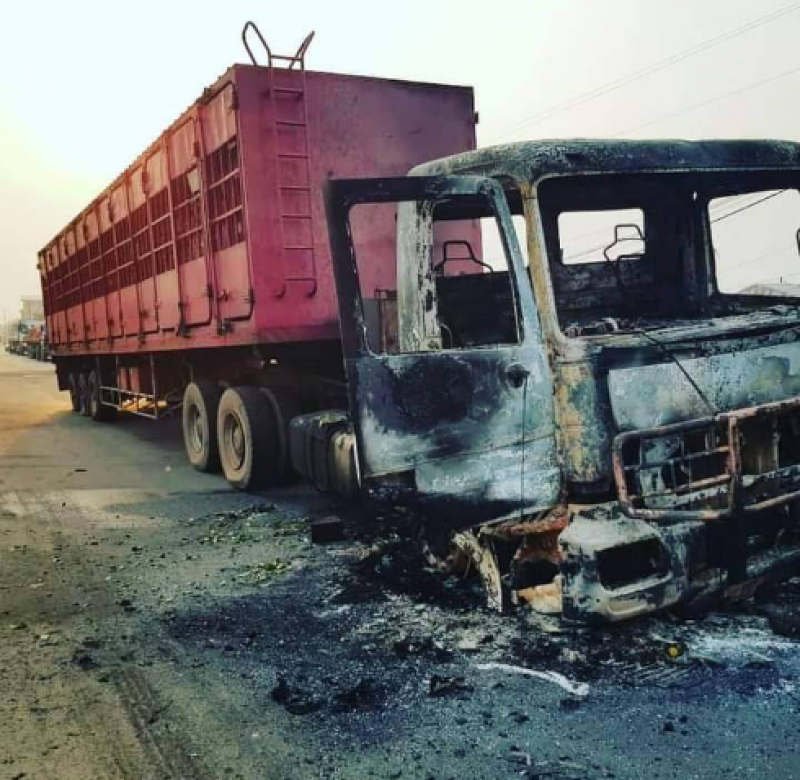 Two separatists were killed in Likomba, a locality in Tiko Subdivision, Fako Division after they burnt down a beer truck Friday morning.
Locals say a sustained gun battle between separatists and state forces lasted over two hours on the morning of Friday, January 15, 2021.
"This morning, amba boys burnt down a truck transporting beer at Likomba, along the Douala-Limbe highway. The military rushed to the scene. After two hours of deafening gunshots, two separatists were killed," a local familiar with the incident told Cameroon-Info.Net.
A passerby said, "I just saw a 14 wheeler vehicle burnt at Likomba Bridge. I saw two persons lying on the tar in front of the burnt truck carrying brewery products. Many soldiers were on the site. One of the victims is in black and has a red band on the waist, probably an amba. I wish I could stop to know the story."
Eric Tataw, a Cameroonian separatist based in the United States reported that armed fighters loyal to a group called the "Ambazonia National Army (ANA)" burned the beer truck.
"The act is meant to send stern warnings ahead of the African Nations Championship (CHAN) due to start, January 16 with Group D matches to play in Limbe, a not-too-far town from Tiko," he said on National Telegraph.
Eric Tataw says separatists are determined "to disrupt the nations cup" by burning transport vehicles and hurting their occupants.
On Thursday morning, it was discovered that some unidentified men, probably separatists, had set the heavy-duty vehicles of a construction company ablaze overnight. The equipment were packed behind the Middle Farms Stadium in Limbe.
The Total Africa Nations Championship (CHAN) hosted by Cameroon will run from January 16 to February 7, 2021. Guinea, Namibia, Tanzania, and Zambia are lodged in Group D and will play in Limbe.
Administrative and security officials say measures have been taken to guarantee security for all.
Cameroon's state forces have been battling to dislodge armed separatists who pitched their tents in the North West and South West Regions since Anglophone protests transformed into an armed conflict in 2017.
Corporate demands by Common Law Lawyers and Anglophone Teachers led to protests in November 2016. The street demonstrations later morphed into ongoing running gun battles between state forces and armed separatist fighters in the predominantly English-speaking regions, leading to untold destruction of human lives, their habitats, and livelihoods.
Tit-for-tat killings, kidnappings, arsons, maiming, and outright terror have become part of daily lives in some parts of the English-speaking regions.