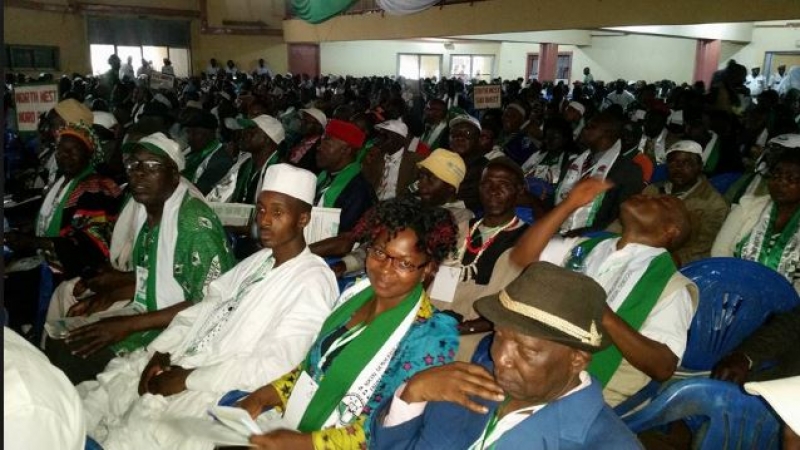 The National Executive Committee, NEC, of the opposition Social Democratic Front (SDF) party met in an ordinary session in Yaoundé on Saturday June 8 and Sunday June 9, 2019 to prepare for imminent local elections but some members say the Anglophone Crisis must be resolved before any elections are held.
The NEC meeting enlarged to SDF Mayors and Members of Parliament presided at by SDF National Chairman, Ni John Fru Ndi failed to find common ground on whether or not they will participate in the municipal, legislative and regional council elections that will most certainly take place this year.
The resolutions of the closed-door meeting remain a guarded secret, but sources say the party finds itself between two extremes. They had since resolved never to boycott any election in the country after the errors made in 1992. Also, they had mounted rooftops to say they will disrupt any election that takes place before the Anglophone crisis is resolved.
With no signs that the crisis rocking the country's North West and South West Regions will be resolved any time soon, the SDF may well be forced to eat their words like they did during the 2013 and 2018 senatorial elections.
In 2013, Fru Ndi threatened to use 100 machetes to frustrate the polls but would later participate to grab 14 of the 70 elective seats. In 2018, it was a senatorial election of ballots and bullets and the SDF participated even when the Anglophone crisis had morphed into a bloody armed conflict.
Since the Anglophone crisis turned violent, many elected officials of the SDF have not been to their constituencies with fears that they may be shown the door if elections are held in the next few weeks.
If the SDF could not as much as hold a successful campaign rally in the North West and South West Regions during the 2018 presidential election window, it is left to be seen how they will do same for local elections.
It would be recalled that during a NEC meeting in March, the SDF threatened to block expected Municipal, Legislative and Regional Council elections this year "if the regime fails to stop the bloodbath and provide long lasting solutions to the socio-political crisis in the North West and South West regions and insists on organizing these elections within the present dispensation."
Quizzed at the time on the position of the party, Hon Joseph Njang Mbah Ndam who doubles as Deputy Speaker at the National Assembly on the SDF ticket responded to reporters thus:
"Ever since we resolved at the SDF convention not to boycott any election in the country again, we are now bent at making sure that the regime levels the playing ground for all political parties to compete. Unlike what happened at the presidential and senatorial elections last year, the SDF will not accept that elections are organized this year in the present dispensation which does not allow voters in the North West and South West regions to freely exercise their civic rights because of insecurity and threats."
Asked if the SDF will take part at the upcoming Regional Council election, Hon Mbah Ndam said:
"Our party is very preoccupied with what is going on in the North West and South West regions and we are continuing to insist that if that situation is not resolved, it may be difficult to hold an election. The SDF is very willing to participate in any election but the circumstance in which we find ourselves in the North West and South West regions is so preoccupying. That is why we keep thinking that we must call on this government to make sure that the conditions are conducive for everybody."