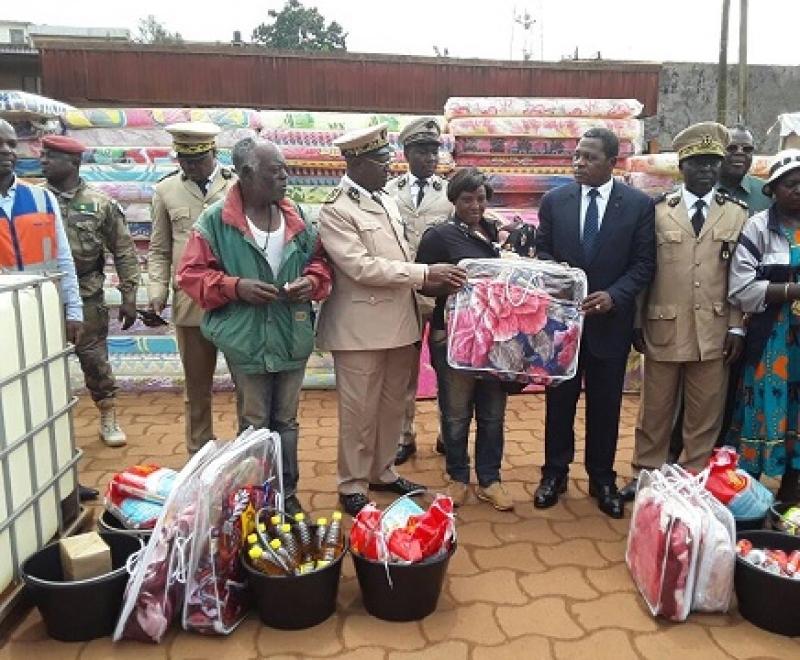 Some 154 families affected by the landslide that killed 43 persons in Gouachie, Bafoussam of the West region, have received government humanitarian aid, few days after President Paul Biya announced he had disbursed FCFA 200 million to assist bereaved families.
The handing over ceremony on Tuesday in Bafoussam, was led by the Minister of Territorial Administration, Paul Atanga Nji who told victims that it was a special don from the presidential couple.
The relief materials comprised of mattresses, blankets, buckets, water containers, food items and hygiene kits, handed over to those living around the area where the disaster took place and who have been asked to relocate temporarily to new sites.
So far, 154 families have relocated voluntarily to some three new sites allocated to them by administrative and municipal authorities.
The Minister said since the incident occurred, President Paul Biya has been following up minute by minute updates from the field.
The FCFA 200 million was not only for those who lost their loved ones in the landslide to bury the dead like many had thought, but also to help relocate potential victims to new sites.
Atanga Nji said the Presidential couple carried out the gesture to acccompany those relocating to new sites, with basic necessities to start afresh.
After the distribution exercise, Minister Atanga Nji Paul along with victims and administrative authorities, held a preparation meeting, ahead of the official burial of those who lost their lives in the landslide disaster, in order to ensure the mass burial goes hitch free.
He insisted that the state attorney should be present at the meeting to clarify judicial issues about burials. Atanga Nji stated that he didn't want a repeat of the Nsam disaster where some people collected corpses and money and later abandoned the corpses on the way, given that they were not the legitimate relatives of those who died.