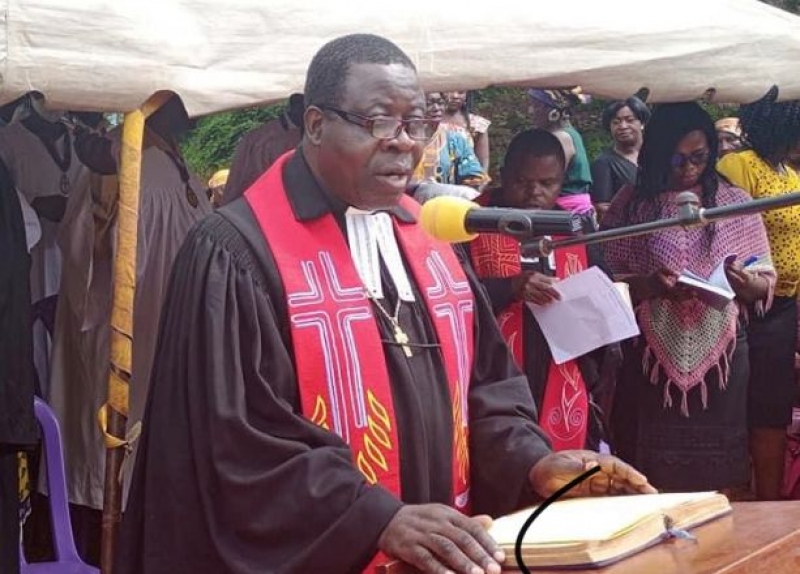 Rev. Voma Simon Montoh, Presbyterial Secretary of the Bali Presbytery of the Presbyterian Church in Cameroon (PCC) has spoken out 56 days after an incident at Presbyterian Church Ntanfoang left him injured and Grace Titalabit death.
The army had denied responsibility for the August 22 church shooting. In fact, on August 23, army spokesman, Navy Captain Atonfack Guemo Cyrille Serge denied claims that soldiers killed the worshipper and injured the parish pastor. He indicted militiamen in Bali Subdivision, fighting for an independent state referred to as Southern Cameroons or Ambazonia.
Back in August, Navy Captain Atonfack Guemo said an explosion that preceded the gunshots came from a separatist-planted improvised explosive device. He said it was during the shootout between the separatist fighters and soldiers that the woman was killed but immediately denied claims the uniform officers fired at the church.
Rt. Rev. Fonki Samuel Forba, Moderator of the Presbyterian Church in Cameroon, reported that on Sunday, August 22, 2021, they were duly informed that:
"Church Service was in session at the Presbyterian Church Ntanfoang in Bali Sub-division, the seat of the Bali Presbytery when it was interrupted by gunshots. The Pastor of the congregation who doubles as the Presbyterial Secretary for Bali Presbytery, the Rev. Voma Simon Montoh was on duty ministering to the Christians in Church when suddenly there was a loud explosion outside close to the Church House, followed by random gunshots. It was in the course of this reckless shooting we learnt that bullets were rained on the Church house injuring the Rev. Voma Simon Montoh on the arm and killing a female Christian of the PCC by name Grace Titalabit instantly in Church."
"I was shot by the military…they also killed Mrs. Numvi Grace"
In a chilling account of what happened on August 22, 2021, Rev. Voma Simon Montoh said he was shot by soldiers, the same soldiers who also killed a female worshipper, Grace Numvi Titalabit.
Given that the preacher is still convalescing, his message was read to Christians by Elder Tafrey Patrick, Presbytery Chairman for Bali on Sunday, October 17, 2021, during a church service to cleanse Presbyterian Church Ntanfoang after the August 22 bloody incident.
Rev. Voma Simon Montoh's epistle read:
"Dear people of God, I greet you all in the name of our Lord and Savior, Jesus Christ.
"For sure, for more than a month now, we have not seen ourselves. Permit me to thank all who have supported me both materially and spiritually. I apologize for the many phone calls I could not pick due to my health situation. Many called to interview me but my health situation could not permit me. My wife tried to answer some of the calls but it was difficult to answer all.
"We thank God that His healing mercies are accompanying us each day. We both fell sick and had to go out for treatment. My health began to deteriorate too fast after being shot by the military during which our sister Mrs. Numvi Grace was shot by the same military and she died right in the church. Thus, blood was spilled in the church.
"By the time the Christians were carrying me to the hospital, I insisted that I will like to talk to the military. So, the Christians lifted me and brought me closer to them at Ntanfoang. Knowing that they might not understand what Presbyterial Secretary means in French, I used a title that goes closer in meaning to it. I said to them 'Vous avez tué sur l'évêque d'église. Je vais fais quoi?' They answered that they will get a car and take me to the hospital.
"The Christians rushed back to church and got what is used to bring in corpses during funeral services and used it to push me to the Bali District Hospital where I was given good care. I thank the Christians and hospital staff of the Bali District Hospital for their care.
"This wicked act done in the church while at worship has kept me so broken since that day. My health began to deteriorate rapidly since that day. Although the wound was healing fast, the pains still prolong.
"The trauma was so heavy in my heart and pushed me into depression. I had never seen a Christian shot dead in the church until that fatal day. The bullet that passed through me has kept me troubled each day. I was thus rapidly moved to a hospital out of Bali for more intervention. After some medical care, I fell into depression and I am now following post-traumatic counseling by some specialists.
"But during all these periods, I pray for Bali as a whole and for the Christians of Presbyterian Church Ntanfoang. Things happened, and most of them were actually propelled by anger. I pray that we all who were angry at this time have our hats down and having wronged one another, let us pardon one another and be pardoned also by our God. Let forgiveness and reconciliation be in our hearts.
"Today, we are here to cleanse and rededicate the house of God and birthplace of the Presbyterian Church in Cameroon. We thank God for his new beginning. I was supposed to take the lead because of the strategic capacity of the church house as the mother church of the presbytery and also indisputably the unchangeable birthplace of the Presbyterian Church in Cameroon.
"It has not been very feasible for me to be physically present. I will be with you when God permits. I have therefore delegated the Presbyterial Treasurer to be in the service and I pray that all will go back specially blessed as we look up to a new worshiping spirit in Bali. I pray that this service concluding the three-day special retreat brings a new atmosphere of joy until we meet again.
"I join my voice to condemn all the killings that are taking the lives of many. While I am still suffering from the pain of many who have died in this war, and especially our sister Nah Numvi Grace, my pain was worsened again by the shooting and killing of a little kid being taken to school in Buea. For how long shall we keep on suffering like this? May those who can do anything to stop this not to continue to carry it out and stop the senseless war. All life is sacred. I pray that an effective and inclusive frank dialogue be organized by those who are expected to do so so that this war will end effectively. God bless you all, The Presbyterial Secretary for Bali."