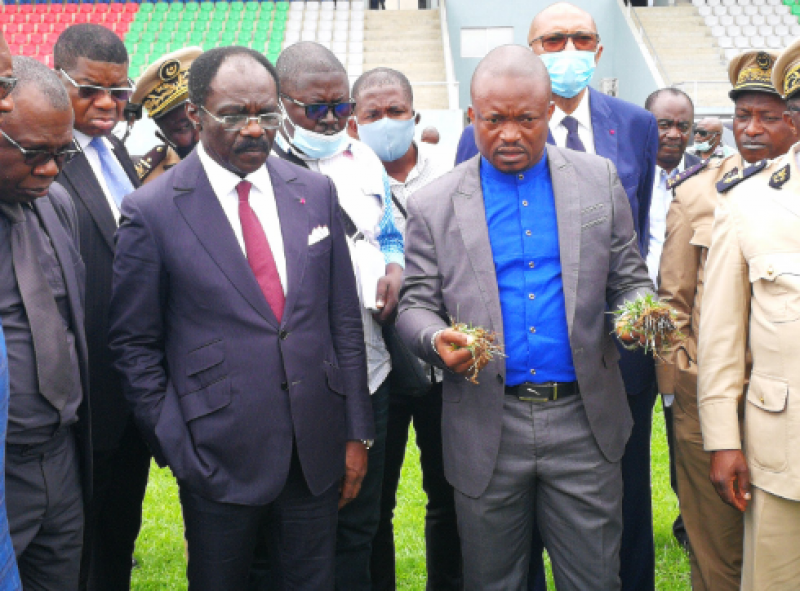 Cameroon's Minister of Sports and Physical Education, Professor Narcisse Mouelle Kombi says everything is set three months to the 2021 African Nations Championship.
He was speaking in Limbe Tuesday following a visit to evaluate the state of affairs at various stadia in Buea and Limbe.
Both towns will host teams for the African Nations Championship to take place from January 16 to February 7, 2021, in Cameroon.
Minister Mouelle Kombi visited the Molyko Stadium in Buea, the Limbe Centenary Stadium, Limbe Middle Farms Stadium and the Limbe Omnisport Stadium accompanied by local administrative authorities, the President of the Cameroon Football Association, FECAFOOT, Seidou Mbombo Njoya, and former CAF President, Issa Hayatou.
In addition to the sports facilities, the delegation visited the accreditation center and the site chosen for the fan zone.
The Minister noted with great satisfaction the level of maintenance of the facilities visited, especially given that they have been operational since the 2016 Women's AFCON.
"Repair works will be quickly carried out in the days ahead following the dismantling of the emergency sanitary facilities that were set up as part of the national response strategy plan to fight against the COVID-19 pandemic," said Mouelle Kombi.
An inspection team from the Confederation of African Football, CAF, is expected in Limbe and Buea on October 29.
Although the Minister says all is set for the 2021 CHAN, the Director of the Limbe Omnisport Stadium, Pascaline Ekombe Mbua, said three months to the competition, they are working to resolve a few challenges.
Aside from issues of water supply, she said the Limbe Omnisport Stadium is in need of a fire extinguisher whose purchase has already been made and is pending delivery. Insects, she said, have destroyed portions of the turf but measures have been taken to fix the situation.
On his part, the City Mayor of Limbe, Motanga Andrew Monjimba said they are excitedly looking forward to the competition. He said their experiences gathered during the organization of the Limbe Festival of Arts and Culture, FESTAC, and the Cameroon Cultural Festival, FENAC, among others put them in a better position to host the Fan Zone Village.