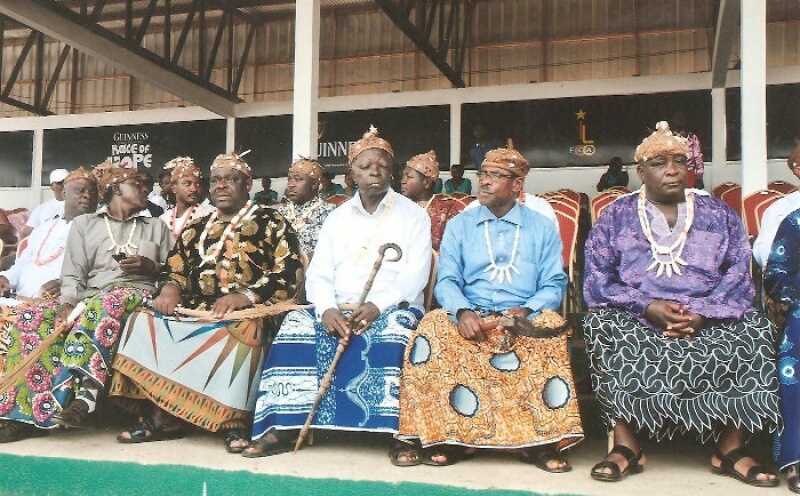 The new president of the South West Chiefs' Conference (SWECC), was on Friday March 15, voted in Buea, during an extraordinary meeting of the network, that saw the Chiefs reading out words of gratitude to President Paul Biya for fighting to restore peace and stability in the region.


Chief Njie Mafany Martins of Liongo village, was presented to the population at a local hotel in town, during a meeting that brought together Chiefs of the region.Reports say he had been elected in Yaoundé weeks ago, and was only presented to the people on Friday. The third class Chief will be assisted by Reverend Dr. Andrew Ekoka Molindo. The new bureau was installed yesterday by the Director of Cabinet at the Prime Minister's office, Ebune Confiance.
Before his presentation , Fako chiefs had been at loggerheads on whom to take over SWECC. Senator Nfon Victor Mukete was accused of laying a firm grib on SWECC's stool, although his term of office had elapsed.
In 2017, the Chiefs met in a gathering that could have led to the election of a new bureau in Limbe, but they rather went fighting. This pushed the then SDO for Fako,George Zang III, to ban the meeting. Fako Chiefs wanted at all cost to head SWECC. Chief Johnson Njombe of Wokaka declared himself interim president of SWECC. He was not given any post in the Friday March 15, newly created bureau.
By the end of the meeting, a motion of support was sent out by the South West Chiefs, thanking President Paul Biya for reorganising the GCE Board, his fight for peace and stability in the Anglophone regions, the appointment of Prime Minister Dion Ngute who hails from the South West, and the reappointment of some of theirs at ministerial positions.
They further condemned the destruction of their palaces, the Kumba District hospital as hostilities intensify in the South West, while reiterating their stance for a one, united, bilingual, indivisible Cameroon.
.
Auteur: