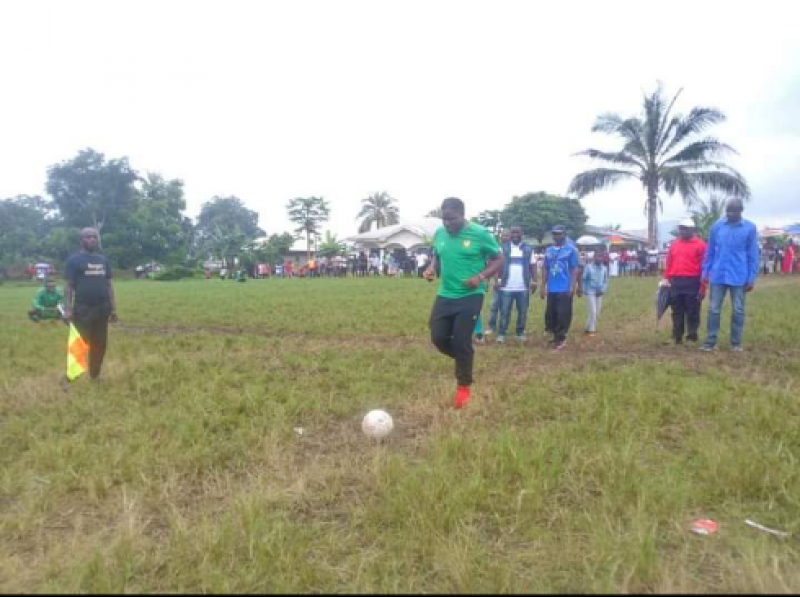 A thick crowd thronged Catholic School Field Wotutu Sunday, July 25, 2021, to witness the first edition of the Wotutu Ewongo Football Tournament, a brainchild of communication juggernaut, Eselem Edwin.
Eselem is an illustrious bona fide youth and elite of Wotutu a village in Fako Division in Cameroon's troubled South West region. He has no fewer than 16 years of professional experience in Corporate and Strategic Communications, Advertising, Marketing, Media Relations, Brand Management, Events, Sponsorship, and Partnerships.
The fallouts of the Anglophone crisis and the COVID-19 pandemic have both dealt a serious blow on Wotutu and the entire Bojongo Court Area. In a bid to succor the pain of his people and put smiles on the faces of the masses, Eselem set out to reignite the spirit of solidarity.
"We decided that since the kids are on holiday since we are seeing light at the end of the tunnel, let's do something to reignite the spirit of solidarity, to give hope to these young people - let them know that there are people who are still thinking about them and we want them to be the veritable ambassadors of this village, and of course of this country," Eselem is quoted as saying.
Eselem furthered: "… the objective is to give hope to the youths of Wotutu especially after a period marked by the pandemic of covid-19 which lingers on and the downtime created by the social-political crisis in that part of the country. Let's keep the faith!"
The competition involves eight local clubs including Oneen Oneen FC, Royal Veteran FC, Alpha FC, Sunshine FC, Lions of Wotutu, Success FC, The Last Boys FC, and Tecimetion FC.
Eselem says the tourney will run until August 29, 2021, and will hence be an annual jamboree for the celebration of the spirit of solidarity. He called on other football lovers to federate forces and reach out to the organizing committee in order to support the project.
After watching the first encounter which ended in a one-all draw pitting Oneen Oneen FC to Royal Veteran FC, Eselem, appreciated the talent and quality of play displayed and encouraged all players to ensure fair play, integrity, and honesty throughout the tourney.
The opening encounter had an impressive ambiance of solidarity as youths, parents, kids gathered to watch and savor the local displays of football skills. The second game pitted Alpha FC to Sunshine FC.
"We are very happy with our illustrious bona fide youth of the Bojongo Court Area for bringing up this competition. May God guide him, give him more grace to see that this happens every year," said Emole Njoku Peter alias Big Four, a prominent figure of the Bojongo Court Area.
Eselem, who has and continues to manage the brand and creative image of Orange Cameroun as well as coordinate all marketing communications, brand, and creative campaigns, strongly believes in lifting and helping others.
"Kindness is an investment that always pays back dividends, not necessarily from the outside, but for one's own peace of mind and soul," Eselem holds. "People are social creatures and we benefit from socialization. In many ways, what we put out into the world is returned to us in the form of our own inner peace, happiness, contentment, and well-being."