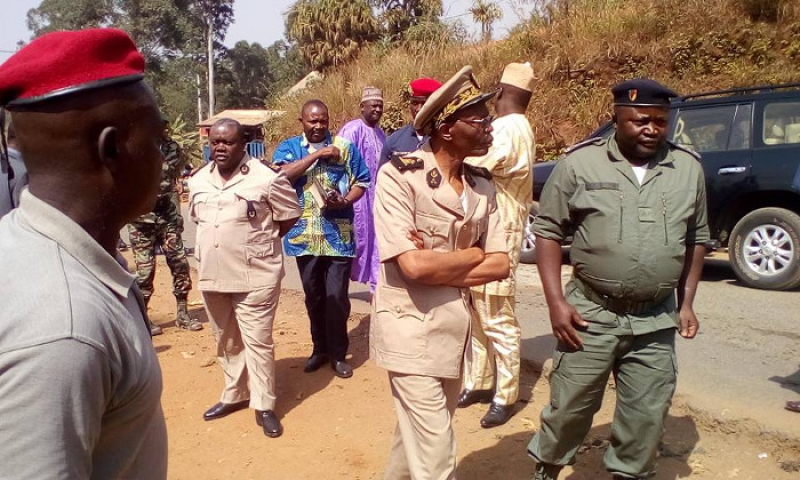 The Governor of North West region, Adolphe Lele Lafrique will this Saturday May 18, install members of the newly created committee to evaluate property damaged at the Muwachu, Alachu and Matsam in Mankon, North West as a result of a fire incident, check military excesses.
A May 15 decision signed by the governor, says the commission would evaluate the humanitarian situation, identify all victims and their needs, and ascertain material damages and property destroyed.
The Senior Divisional Officer for Mezam, Songa Pierre has been appointed president of the commission, the regional delegate of State Property, surveys and Land Tenure as rapporteur, with members such as the Divisional Officer of Bamenda II, the commander of the Army rescue unit ,the Fon of Mankon, Mayor of Bamenda II council amongst other administrative officials in Bamenda II subdivision. The commission is expected to present a report within one week on the situation on the ground.
President Paul Biya reacted promptly according to local officials, to the needs of those in distress, following the attacks. So far, no village burnt down in the course of this crisis, has been shown this immediate concern like the Alachu or Mile 8 Mankon community.
Many believe it is as a result of constant reports from nongovernmental organisations focusing on human rights violations carried out by the military in the North West and South West as well as the recent pressure on Cameroonian authorities by foreign countries, that has pushed the government to react this quick.
Ambazonia fighters killed two soldiers around Mile 8 Alachu Mankon on Wednesday, May 15. This led to a retaliation and man-hunt exercise from the military said to have destroyed more than 100 houses, a local clinic and cars amongst others. The Mayor of Bamenda II, Balick Awah Fidelis, revealed that some 200 persons were affected by the attack.
The military has often accused civilians in the Anglophone regions of collaborating with armed separatists, making it difficult for the army to fish out their enemies. The attack came few days after Prime Minister, Dr. Dion Ngute, was on a peace mission to Bamenda, capital of the region.