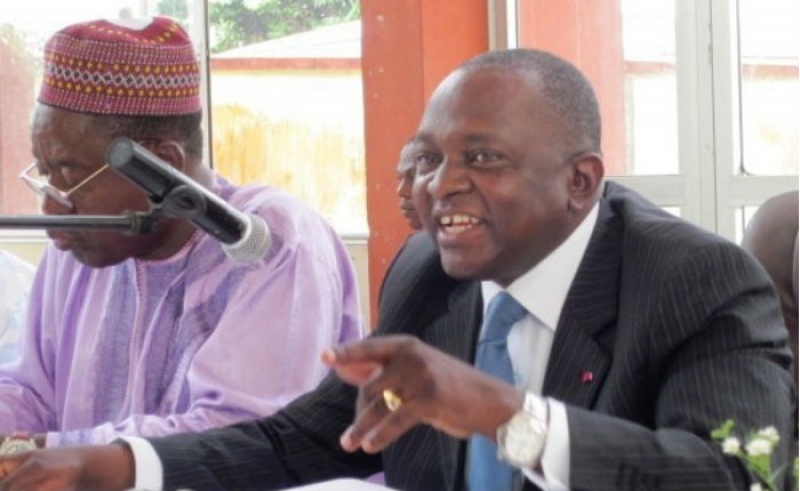 Bernard Okalia Bilai, Governor of Cameroon's South West Region has said public servants as well as users of public services within his jurisdiction must put on protective masks before rendering or accessing services.
In a communiqué dated April 4, 2020, the no-nonsense civil administrator says this new order goes into effect from Monday, April 6, 2020 till further notice.
"The Governor of the South West Region informs the population that, as from Monday the 6th of April 2020 till further notice, all those visiting public services in the Region must put on a protective mask before accessing these services," Okalia said.
"It should be noted that this measure equally applies to the personnel of the concerned structures and comes to add to the already existing measures taken by Government to stop the spread of the coronavirus (COVID-19) pandemic. The Governor counts on the usual understanding and collaboration of the public."
Cameroon-Info.Net recalls that of the 555 known cases of the novel coronavirus in Cameroon, the South West Region has unfortunately made its own contribution with one case transferred to Douala from Limbe for treatment and another who died in Buea.
Governor Okalia had earlier on prohibited drinking in off-licences, snacks, nightclubs, palm wine joints, and eating in restaurants "within the framework of the implementation of the measures prescribed by the government to fight against the spread of the novel coronavirus (COVID-19) pandemic within the region."
The Governor reminded the public that those who buy drinks from drinking spots and food from restaurants need to carry them home for consumption. These measures equally apply to palm wine sellers, he said, charging administrative and municipal authorities as well as forces of law and order to ensure the strict implementation of the said measures.
The country's Public Health Minister, Dr. Manaouda Malachie has on several occasions taken to twitter to remind the public that the Coronavirus is a reality that should not be ignored.
"Let's protect our loved ones, protect ourselves: respect basic hygiene rules and stay at home as much as possible. I would also like to ask everyone, apart from the opinion of scientists, to cover their mouths and noses when going out," he said.
"At this stage, everyone must protect themselves and others by covering their mouths and noses when leaving their homes, especially if they have to take public transportation or go to the market. Otherwise the recommended option is to stay at home as much as possible."