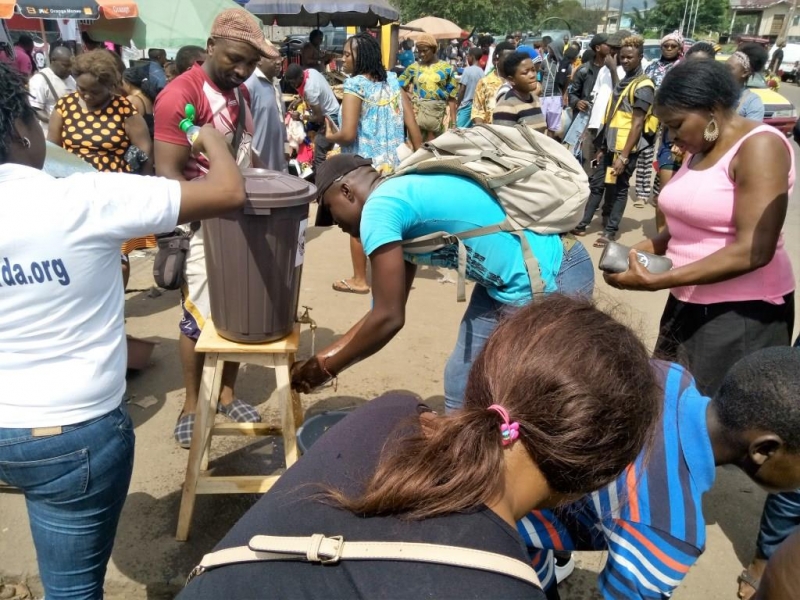 The Centre for Human Rights and Democracy in Africa, CHRDA run by Human Rights Lawyer Nkongho Felix Agbor established Friday, March 27, 2020, Hand Washing Points in populated locations in Buea, capital of Cameroon's South West Region as part of efforts to bar the way to the COVID-19 pandemic.
"Today the 27th of March 2020, CHRDA in response to the outbreak of COVID-19 Pandemic, established some Hand Wash Points in strategic positions in Buea Municipality, South West Region Cameroon. These Wash Points aim to encourage the general population to develop the culture of sanitation both in their homes and public places," a CHRDA statement read.
Although COVID-19 suspects in Buea tested negative, the CHRDA team used Friday's outreach programme to encourage the population to regularly wash their hands up to the elbow with soap and clean running water.
"You can also use alcohol-based hand sanitizers in the absence of water and soap to kill potential germs and viruses," the team said as it addressed small groups of people across major streets in Buea.
"Flyers carrying preventive measures were also distributed to the population mostly taxi drivers to boost the preventive measures to combat the spread of COVID-19."
Aside educating the masses to beware of unfounded information making rounds, the CHRDA team told the population to always refer to specialised government services and the World Health Organisation (WHO) for up to date and credible information relating to the novel coronavirus.
In line with government's response plan and WHO prescriptions, the CHRDA team educated the people of Buea on the following preventive measures: Wash your hands frequently with water and soap; Maintain social distancing in public places (stay at least one meter away from another person); Avoid touching eyes, nose and mouth; Practice respiratory hygiene: covering mouth and nose with bent elbow or tissue when coughing or sneezing and dispose of the used tissue immediately; Stay safe and avoid crowded places; Be aware of COVID-19 development around the world; If you have fever, cough and difficulty breathing, seek medical care early; and Stay informed and follow advice given by your healthcare provider.
In the event of a suspected COVID-19 case in Cameroon, the population was advised to contact the following emergency numbers: 1510, 677899369, 677894364, 677897644 and 677900157.
"In response to the COVID-19 outbreak, CHRDA has reduced some of its staff members to work from home while only essential staff members are allowed to come to the office alongside other preventive measures to help curb the spread of the virus. We have also continued with our sensitization campaign to help fight the spread of the pandemic in Cameroon," said Agbor Nkongho, President/Founder of the Centre for Human Rights and Democracy in Africa.