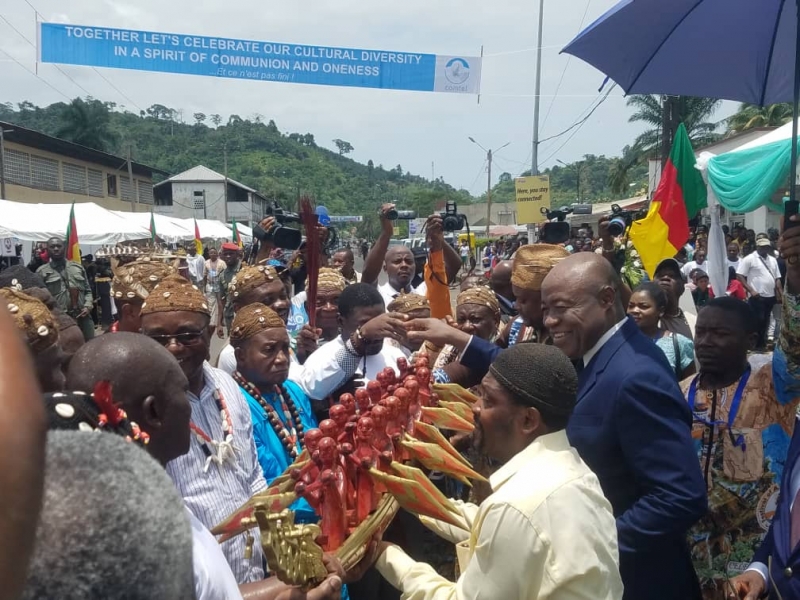 The Limbe Festival of Arts and Culture, Limbe FESTAC ended Saturday, April 13, 2019 with the attendance of six members of government, top state functionaries, diplomats, traditional rulers and thousands of culture lovers from across the country and beyond.
The members of government who showed up at the Limbe Community Field for the festival finale included: Arts and Culture Minister Pierre Ismael Bidoung Mkpatt of Arts and Culture, Secondary Education Minister Nalova Lyonga, Public Service and Administrative Reforms Minister Joseph Anderson Lé, Minister delegate at the Ministry of Economy, Planning and Regional Development in charge of Planning Paul Tasong, Secretary of State in charge of Teacher Training at the Ministry of Secondary Education Boniface Bayaoula, and the Minister Director of Cabinet at the Prime Minister's Office, Confiance Ebune.
The Limbe Festival of Arts and Culture, in its 6th edition this year, opened on April 6, 2019. Separatists had vowed that the festival will not take place, but the authorities and locals staged a successful Limbe FESTAC 2019.
It was the end of eight days of celebration of Cameroon's rich cultural heritage, a show of Cameroon's unity in diversity. Since 2014, the festival has brought together cultural lovers across Cameroon, with participating delegations from other African countries.
Limbe FESTAC is characterized by cultural parades, traditional dances, gastronomic displays, carnival, marathon, canoe race, wrestling and a beauty pageant, garnished with a raffle draw this year.
On Friday April 12, the winner of the coveted Yaris car through a raffle draw was unveiled. The car valued at FCFA 15 million went to Keukoum Jean, a staff of the national refining company, SONARA. Several other prices were up for grasps.
Void of any tribal or ethnic coloration, the Limbe FESTAC is about the biggest cultural event across the country that celebrates all the cultures of the people.
The event held this year within the context of the deepening crisis in Cameroon's North West and South West Regions as well threats from separatist fighters. Separatists loyal to the self-declared state of Ambazonia had called for a 10-day lockdown of Fako Division.
The lockdown, according to Chris Anu, Secretary of Communication and Spokesperson of the Ambazonia Interim Government, was meant to frustrate the Limbe Festival of Arts and Culture, reason why a tyre puncture at Nambeke Street on Friday night got many moved.
Going by Anu, such events like FESTAC should not be taking place in times of war, and especially at a time when people are mourning their loved ones. He added that the Interim Government had earlier informed the authorities of Limbe to put such a celebration on hold.
But the popular show of defiance to the lockdown and the dictates of separatists may well be a message that the people of Limbe have taken their destinies into their hands.
Auteur: