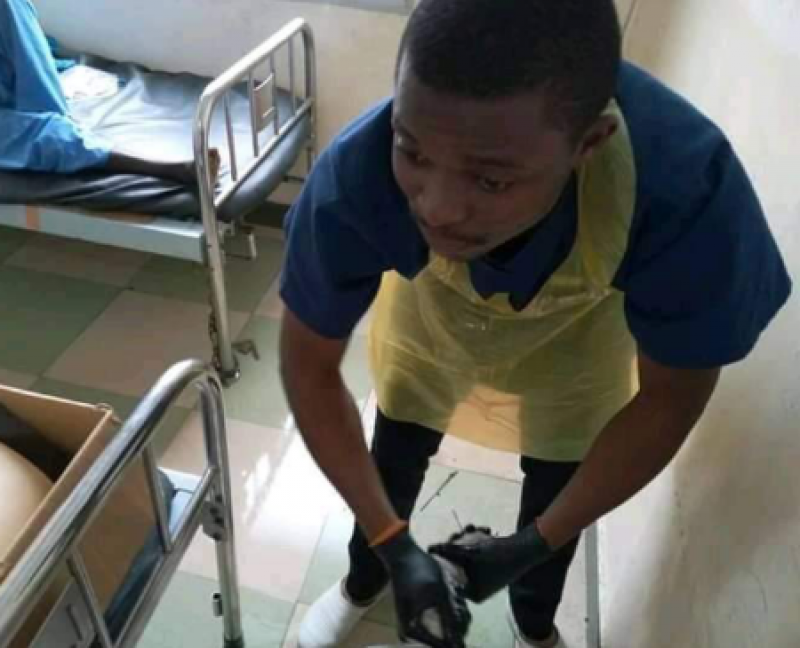 Dr. Ngomba Divine Martin Mokake, newly appointed Director of the Buea Regional Hospital Annex was spotted Monday, August 12, 2019 participating with humility and joy in a "Ward Cleaning Campaign".
Pictures of the Cameroon and Ukraine trained surgeon have gone viral on social media with many describing his gesture as the dawn of a new era for the hospital trapped in problems of its own.
He was appointed to head the facility following a decision August 1 signed by the Minister of Public Health, Dr. Malachie Manaouda.
Born in 1985 in Buea, 34-year-old Dr. Ngomba Mokake is the youngest Hospital Director in Cameroon.
Although the news of his appointment took many by surprise, patients at the Buea Regional Hospital these past few years had seen it coming for this physician they affectionately call "Small Pikin Doctor".
Dr. Mokake graduated as a Medical Doctor in 2009 and a Specialist in Visceral Surgery in 2013 from Lugansk State Medical University of Ukraine. He was recruited at the Buea Regional Hospital as a surgeon on voluntary basis in 2013.
He is said to have introduced Ultrasound Guided Percutaneous Intra Abdominal surgeries with great success for the first time at the Buea Regional Hospital.
"It didn't take long for him to win the heart of the population with his excellent bedside manners and nearly perfect surgical skills. Everyone wanted to be consulted by the "small pikin doctor" (baby doctor)," many say.
The Faculty of Health Sciences at the University of Buea also employed him as a part-time Lecturer in Anatomy and Surgery after being ranked first in the interview.
He did it again in the national exams for the recruitment of Medical Specialists into the Cameroon public service in 2013. He was sent to the Buea Regional Hospital as Head of Surgery. Dr. Mokake was also appointed Head of Division for Health at the University of Buea in 2014 and recruited as an Assistant Lecturer in the Faculty of Health Sciences, Invest In Limbe writes.
Godlove Njisong says Dr. Mokake's road to greatness dates back to his elementary school days.
Hear him: "I am not surprised. I was in the same class with Martin Divine Mokake in Lowersixth and Uppersixth. I saw him serve as the health prefect. I saw him taking care of patients in the School Dispensary while others were studying. Taking care of others health was something he did with a lot of pleasure. I am delighted merit is being recognized."