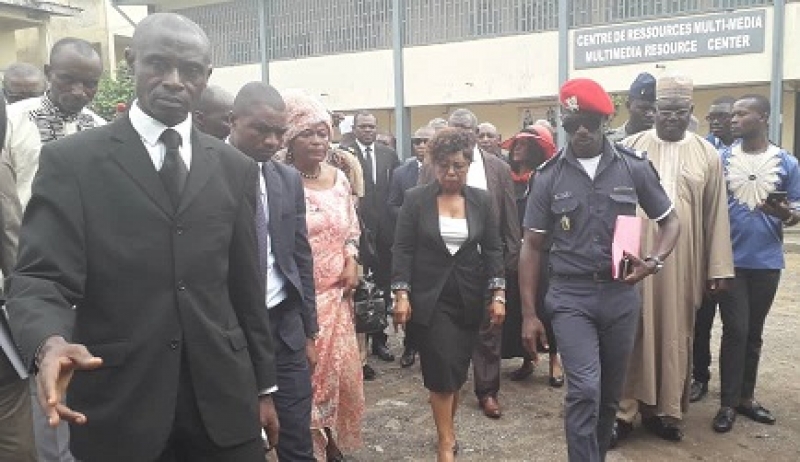 Cameroon's Secondary Education Minister, Nalova Lyonga on Thursday April 11 visited Government Bilingual High School (GHBS) Dedio-Douala Littoral Region 12 days after the stabbing of a student Breliot Tsanou on campus.
Minister Nalova's visit went underway at a time when students are still on Easter Break. In the course of the day, the Secondary Education boss paid tribute to the murdered student by placing a flower at the spot of the incident.
The minister later visited the home of the Tsanou's in the Bepanda neighbourhood of the same city to console and encourage the family.
She has since come under criticism for not taking the present measures since the incident happened on March 29th. Within the public space, arguments have erupted as to why the minister did not issue an official public statement or rush to the campus to assess the incident.
Critics say today's visit to the college will be of minimal effect since students are on holidays. The minister in a brief exchange with tutors and administrators of the college called for the strengthening of security and discipline on campus.
The minister is quoted as telling the teachers that moments of sharing report cards is not a time to mislay the disciplinary measures in place. She insisted that, school authorities must see into it that students come to school, enter the class and return home after collecting their report cards.
Despite the criticisms, the former Vice Chancellor of the University of Buea is said to have been held back to ensure the successful staging of the 21st edition of the national school games popularly known by its French acronym as "FENASCO A" for the college category.
Breliot Tsanou, 17 was stabbed on campus. He was rushed to the Deido District Hospital but later died. He was buried last weekend in his native Fongo Tongo village in the West Region.
Public Health Minister Manaouda Malachie has since the incident suspended three nurses of the facility for three months. Days after, the director was fired. These sanctions came after pictures of the deceased in the theatre surfaced on the social media.