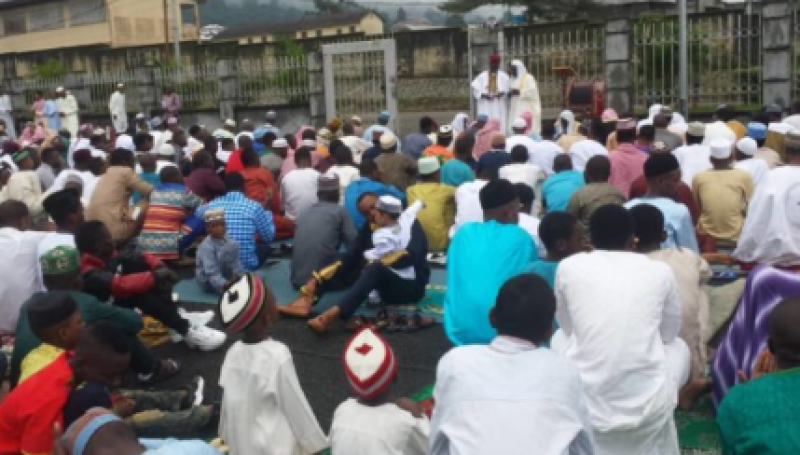 The Chief Imam of the Buea Central Mosque, His Eminence, Alhadji Mohammed Aboubakar has enjoined parents in the North West and South West Regions to send their children back to school when the next academic year opens on September 2, 2019.
The spiritual leader was speaking at the esplanade of the Buea Town Green Stadium during solemn prayers to mark the feast of Eid Al-Adha Sunday, August 11, 2019.
In the presence of senior administrative officials in the region, Imam Aboubakar frowned at the fact that the Anglophone Crisis has kept children at home for three years. To the religious leader, parents should take responsibility over their children as he said, "If we do not educate these children, we will have an illiterate generation tomorrow. For an uneducated society is an evil one."
He equally tasked the regime of President Paul Biya and the Diaspora to work towards a common goal; that of peace, because "When there is injustice, corruption, embezzlement, and violence in a society, there is bound to be anarchy," he stated.
Cameroon-info.net recalls that Alhadji Mohammed Aboubakar is one of the conveners of the Anglophone General Conference that seeks a peaceful end to the socio-political crisis in Cameroon's North West and South West Regions.
The Muslim faithful were charged to shun vices and emulate Prophet Ibrahim who obeyed the Almighty Allah, when he was commanded to sacrifice his only son, Ishmael.
Talking about the treatment given to women in the society, Imam Aboubakar, while addressing the plight of women in marriages was addressed reminded listeners that "women are the power of our wealth in society. Treat them with utmost respect and integrity".
With back to school being the major preoccupation, the Islamic Education Secretary for the South West region, Matanga Hans Hilary Hamza coined a slogan "do our kids no harm as they return to school."
The Moslem Community made special supplications on sustained peace, security, development and unity in Cameroon. The prayer was intense for Allah to intervene and provide urgent solutions for the crisis disturbing the North West and South West Regions.
His Eminence, Alhadji Mohammed Aboubakar appealed to the authority to seek lasting solutions to the crisis that has displaced many from their ancestral lands in the Anglophone Community.
Auteur: