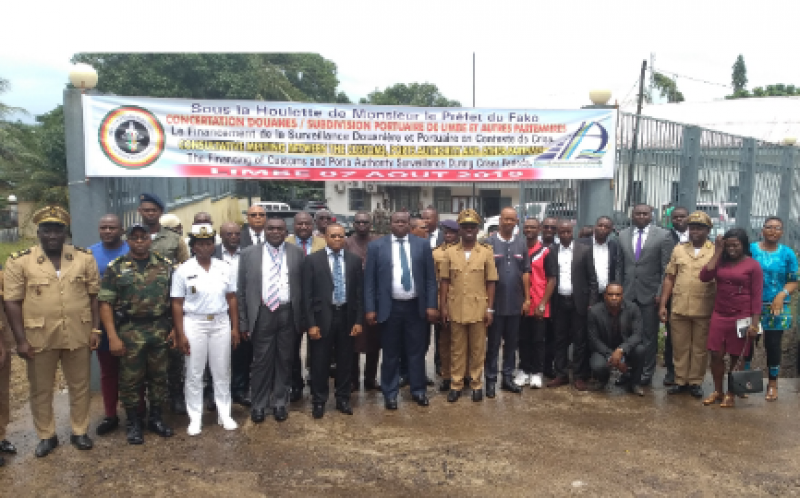 A consultative meeting between the customs, ports authority and other stakeholders has taken place in Limbe with focus on the financing of customs and ports authority surveillance during crises periods.
The Limbe meeting Wednesday, August 7, 2019 unfolded at the Customs Office in Bota Limbe under the chairmanship of the Senior Divisional Officer for Fako represented by his first assistant, Richard William Bejedi Otto II.
The consultative meeting took place within the context of the deepening socio-political crisis rocking Cameroon's North West and South West Regions.
The customs officials of the South West Sector with seat in Limbe say there is a need for all stakeholders to be coherent in their actions.
In the face of the socio-political crisis, threats take the following forms: secessionist tendencies, illegal exploitation of natural resources, conflicts between border communities, highway robbery, drug and human trafficking, illicit trafficking in firearms, agropastoral conflicts, etc."
There is therefore need for strategies to fight against trabsborder crimes notably: terrorism, highway robbery, maritime piracy, illegal drugs and medication, human trafficking, proliferation and illicit circulation of arms, money laundering, agropastoral conflicts, poaching in parks and game reserves, and contraband.
Wednesday's consultative meeting between the customs, ports authority and other stakeholders was attended by representatives from the Limbe Naval Base, the Rapid Intervention Battalion - BIR, Cameroon National Shippers Council among other specialised government departments.
A cursory look at the issues showed that much work needs to be done to better secure staff of the customs sector and their installations.
At the level of the Ports Authority, stakeholders at Wednesday's consultative meeting observed that some unpleasant events had taken place:- the fire accident on a vessel at the Tiko Port last May 9, 2019.
In a bid to consolidate security and beat off the strain caused by the fire incident at the National Refining Company, SONARA, ways of financing customs and ports authority surveillance during crisis periods were sought.
The meeting permitted Customs and Port Authority officials to explore, articulate and implement a surveillance synergy.