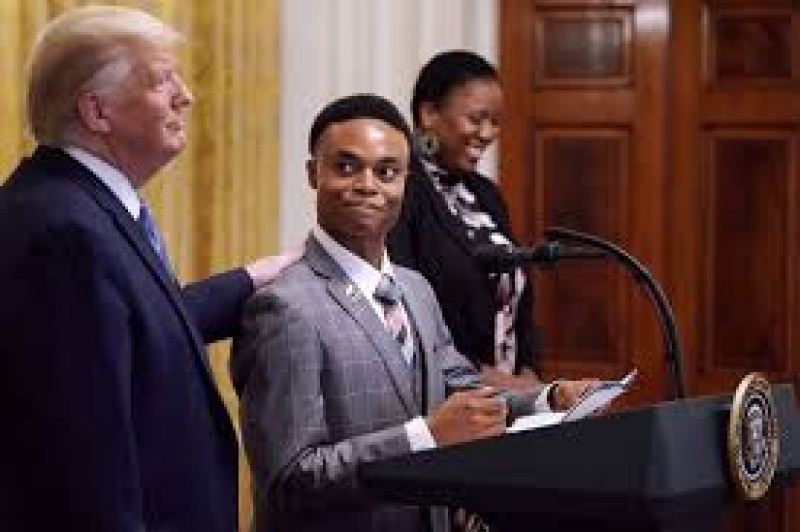 Videos of a Cameroonian, now working for the United States Military, asking US President Donald Trump to quickly build a wall against illegal migration has sparked controversy for the past days.
Although the video was first circulated by the 6th of October, it has been making rounds on whatsapp groups these two days as many Cameroonians have been condemning the Ben Okereke for supporting one of Trump's policies many consider infamous and rude.
It was during the Young Black leadership Summit this 2019 on the 4th of October at the White House, that Ben Okereke who got into the US at 14 years, was given an opportunity to talk by Donald Trump, where he thanked the US president for fighting 'fake media', and extended his support to the building of a wall at the Mexico border to prevent illegal immigration.
" Finally, we want to thank you to build a wall Sir. Frankly because, we don't oppose immigration but we oppose illegal immigration. So we want you to come to this country legally if you are going to come to this country", cautioned Okereke.
Excitedly, Donald Trump announced that Ben came from the US, after suffering many hardships in Cameroon, which Trump says is a beautiful place.
To Trump, for Ben to join the United States Army which he has served for four years on, is another way to 'give back to our country', as a very talented field artillery specialist.
However, Okereke's caution has been received with cold feet by many who have ambition to get into the number country in the world. He has been widely attacked on social media by different persons from different countriesl
Recently, a Nigerian TV satiric show host, Mock News by Pararan, played the video, blasting Ben Okereke, for having exploited the sweet taste of America, and now joining his voice to Trump's, to stop other African immigrants.
Thousands of African migrants on their way to the US are stucked at the Mexican border, most of them coming from Cameroon, DR Congo, Nigeria and Angola.
Immigration authorities in Guatemala had been issuing African migrants travel documents until this summer. They stopped under pressure from the Trump administration.