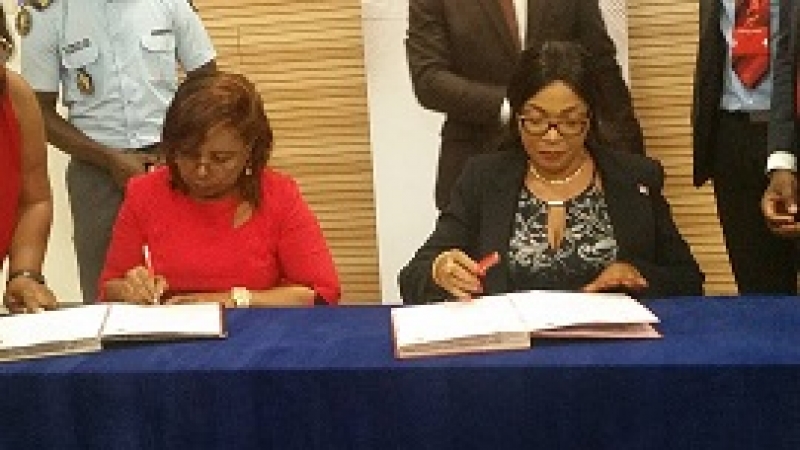 The Minister of Secondary Education, Nalova Lyonga has warned school principals that a team of 200 inspectors will be sent on the field in two weeks to investigate how money disbursed by the ministry is being spent, amongst other concerns.
The Ministry has this year distributed over 3 billion to schools, to help run their activities and to stop principals from interfering into PTA funds, which are purposely for the construction of toilets and classrooms.
Nalova Lyonga was talking in Douala on Thursday October 17, during a ceremony to sign a Memorandum of Understanding, between the Ministry of Secondary Education and Union Bank of Africa (UBA).
This partnership authorises UBA, to henceforth be used as a medium for parents with children in secondary education schools, to pay fees. This allows the Ministry to strictly monitor schools finances, directly from Yaounde.
She announced the government has finally signed a decree this year, making mobile money, the methodology for paying school fees, reasons why this year, parents have been going to other partners to pay fees.
"At first, government had no clue on what was coming in as school fees..the government had no way of showinning schools and money was coming into the schools. The government is running schools and paying teachers not totally from school fees", revealed Nalova.
" I didn't see myself being minister in a place where people did not know how much to pay for their chiildren's education", she added.
Months ago, UBA approached the MInistry , asked to join th electronic payment of fees. Minister Nalova says she was impressed by their presentation and what the services they were offering to the Ministry.

"I am proud t o have this partnership with UBA..There are a few others who have presented to us. Some with very funny presentations; funny because I think they were not serious", she said.
She however warned that no financial institution shoudl go to any of the schools and enter into selfish agreements with principals to force parents to pay fees only to them.
As the last to join the race, the Minister cautioned UBA not to buy off schools, be attentive to problems raised by parents and avoid bad practices. UBA Cameroon's deputy general manager, Atanga Fonkwen Margarite signed on behalf of her bank.