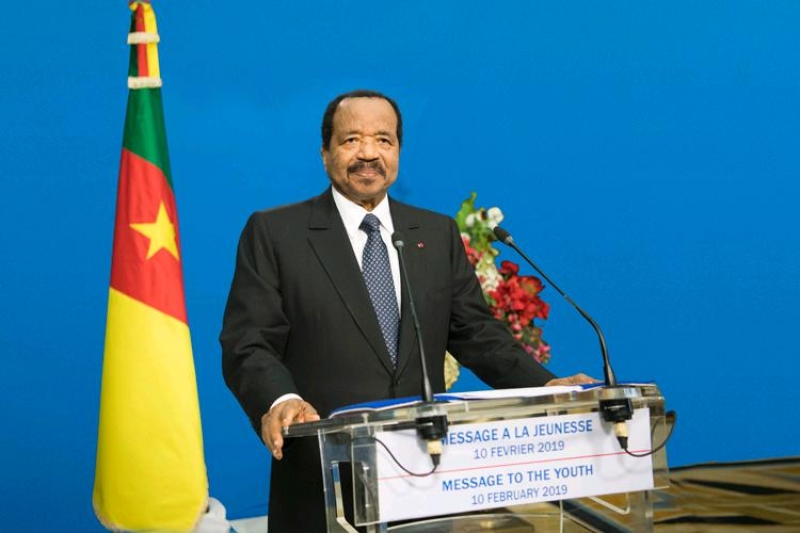 Experts of the United Nations have called on Cameroon to amend some provisions of Law No. 2014/028 of 23 December 2014 on the suppression of acts of terrorism. They say the terrorism is so vaguely defined in the law as to restrict fundamental freedoms.
Members of the European Parliament have now said they are in support of the proposals made by the UN experts that Cameroon's 2014 anti-terrorism law should be reviewed, given that it is being "misused".
The European Parliament resolution of 18 April 2019 on Cameroon (2019/2691(RSP)) states in its article 11 that:
"[The European Parliament] expresses concern that the 2014 anti-terrorism law is being misused to restrict fundamental freedoms; supports the requests made by UN experts that the law be reviewed to ensure that it is not used to restrict the rights to freedom of expression, peaceful assembly and association."
The said law has since 2014 been used to try journalists and others opposed to the government of the day. Journalists like Ahmed Abba, Bebie-Ncho Tilarious, Amos Fofung, Thomas Awah Junior and many others have been detained and charged under this law.
Political opposition has also been arrested under this law now considered fit for amendments. Maurice Kamto, Barrister Michele Ndoki and other members of the Cameroon Renaissance Movement (CRM) party are the latest victims of this law after the likes of Barrister Nkongho Agbor, Dr. Fontem Neba, Mancho Bibixy Tse, Penn Terence et al.
Those charged under the 2014 anti-terrorism law are tried in military courts and have the death penalty dangled over their heads.
The European Parliament takes exception to this, resolving thus:
"Recalls that military courts should not, under any circumstances, have jurisdiction over the civilian population; reminds Cameroon of its international obligations to uphold the right to a fair trial for all citizens before independent courts of law.
"Recalls that the death penalty has not been used in Cameroon since 1997; notes that this is a milestone in the country's path to full abolition; reiterates the European Union's absolute opposition to the death penalty and calls on the Government of Cameroon to confirm that it will not seek the death penalty for political activists and protesters."
Among others, the European Parliament: "Reiterates that a vibrant and independent civil society is essential for upholding human rights and the rule of law; expresses concern that the activities of the Cameroon Anglophone Civil Society Consortium have been banned; urges the Government to lift the ban and ensure an open space in which civil society can operate;
"Notes the decision of the United States to scale back its military assistance to Cameroon owing to credible allegations of gross violations of human rights by security forces; calls on the Commission to undertake an assessment of EU support to security services in this regard and to report back to the European Parliament; calls for the EU and its Member States to ensure that no support given to the Cameroonian authorities contributes to or facilitates human rights violations;
"Deplores the cases of torture, forced disappearances and extrajudicial killings perpetrated by the security services and armed separatists; expresses particular concern at the actions of government forces in the violence; calls on the security forces to respect international human rights law when carrying out operations, and calls on the Government to take immediate steps to end the violence and impunity in the country;
"Condemns the use of excessive force against protestors and political opponents, and violations of the freedoms of the press, expression and assembly; deeply regrets the arrest and detention of Maurice Kamto and other peaceful protestors; calls for the immediate release by the Cameroonian authorities of Maurice Kamto and all other detainees held on politically motivated charges, regardless of whether they were arrested before or after the 2018 presidential elections;
"Further calls on the Government of Cameroon to cease all harassment and intimidation of political activists, including by lifting the ban on peaceful political gatherings, demonstrations and protests, and to take action to clamp down on instances of hate speech;
"Expresses concern at the Government of Cameroon's failure to hold its security forces to account, which has exacerbated the violence and the culture of impunity; calls for an independent and transparent investigation into the use of force by the police and security forces against protesters and political opponents, and for those responsible to be held to account in fair trials;
"Urges Cameroon's authorities to adopt all necessary measures consistent with the country's human rights obligations to end the cycle of violence; calls in particular for the Government to organise an inclusive political dialogue aimed at finding a peaceful and lasting solution to the crisis in the Anglophone regions; calls on the international community to help facilitate an inclusive national peace dialogue by offering to play a mediating role;
"Regrets the unwillingness of both parties to the conflict to engage in peace talks; urges the African Union and the Economic Community of the Central African States to push for the organisation of such talks and calls for the EU to stand ready to support this process; considers that, in the absence of progress, the crisis in Cameroon should be considered by the United Nations Security Council; further calls for the EU to use the political leverage provided by development aid and other bilateral programmes to enhance the defence of human rights in Cameroon."
The European Parliament "instructs its President to forward this resolution to the Council, the Commission, the Vice-President of the European Commission / High Representative of the Union for Foreign Affairs and Security Policy, the EU Special Representative for Human Rights, the ACP-EU Council, the institutions of the African Union, and the Government and Parliament of Cameroon."