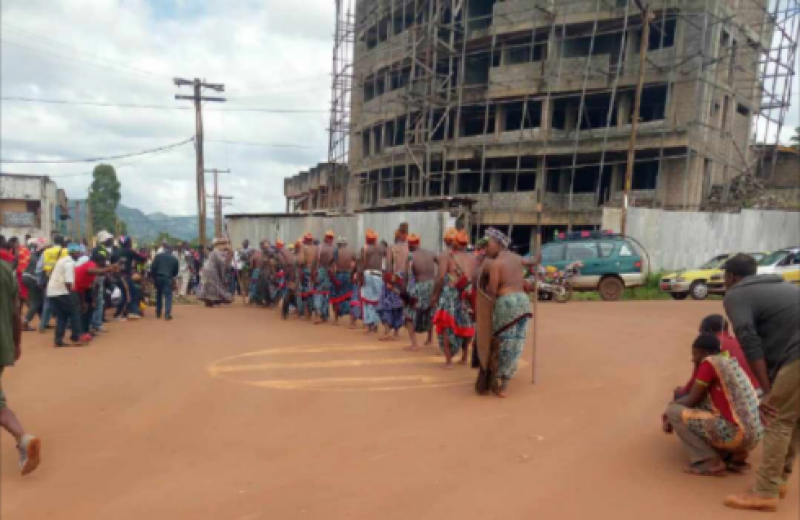 The people of Nso in Bui Division of Cameroon's North West Region have joined the secret society, 'Nwerong' to cleanse the land as they await the return of the Fon of Nso, His Royal Majesty Semh Mbinglo II.
He was airlifted from his palace by the military on Tuesday, December 11, 2018, for medical attention amidst fears his health was failing following untold atrocities committed by armed rebels fighting to create a putative state called Ambazonia. It is believed that he had thrice been kidnapped by the rebels who also killed his two sons in December 2018.
For close to two years without the Fon presiding affairs from the Nso palace, villagers led by the Nwerong purified and cleansed the land in a prelude to the Fon's programmed return.
Tuesday's purification rights were preceded by a march demanding a return to normalcy and an end to abuses and violence that has almost crippled the hitherto booming Kumbo. The thick crowd that took part in the rites was akin to the September 22, 2017 protests that swept through the country's North West and South West Regions.
The long journey started on October 13 with incantations by the Nwerong, The Post reported. According to the Nwerong society, Kumbo has suffered a lot as far as the Anglophone Crisis is concerned.
The man representing the Fon of Nso, 'Shey Woo Ngang', revealed on behalf of the secret society that 'enough is enough' in Kumbo and that the population should embrace love and peace.
He called on the entire population to come out massively to receive the Fon who will be back in the days ahead. The imminent return of the Fon, according to most people, is the beginning of the end of the crisis that has plunged Kumbo, once a bustling business town, to hit rock bottom.
The coming out of the Nwerong secret society is the beginning of the end of the crisis, according to the traditional leaders.
During the long march from the Palace to the Mbve Market and back, neither a separatist fighter nor the military, came out to interfere with the demonstration. It is believed that the days ahead shall be more peaceful in Kumbo as the Ngiri sanctum is preparing to stage its own demonstration in the days ahead, reports The Post.