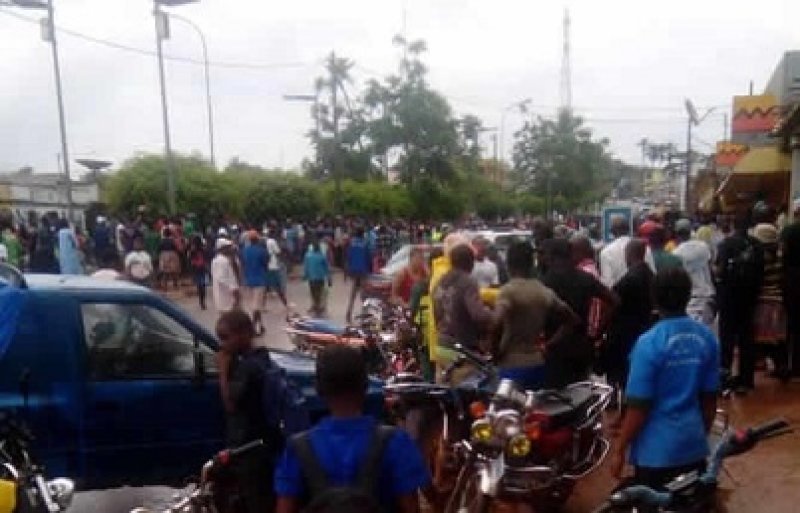 Uneasy calm now reigns in Sangmelima, capital of the Dja and Lobo Division in Cameroon's South Region after locals stormed the local police station spoiling for a showdown.
According to official information, two events took place Wednesday, October 9, 2019 that set the town in panic – the discovery of the corpse of a 27-year-old boy and the arrest of a commercial motorbike thief. An ethnic cleansing had also been rumoured, forcing the locals to hit the streets.
Koulbout Aman David, Senior Divisional Officer, SDO, of the Dja and Lobo Division in a press release Wednesday said the corpse of 27-year-old Assam Belinga Benjamin Junior was discovered in Nyazanga, a village in the outskirts of the town of Sangmelima. Informed, security forces are said to have helped to collect the mortal remains that were in an advanced state of decay and assisted the family in its burial.
The SDO goes on to say that security forces later arrested Mefoua Wilfried, born on April 16, 1998, in Sangmelima following suspicion that he may be behind the killing of 27-year-old Assam Belinga Benjamin Junior.
According to a testimony from Engamba Beribeau, uncle of the deceased, the suspect was seen with the phone and slippers of the deceased. The suspect is said to be close to the family of the victim and might have had an altercation with the late Assam Belinga Benjamin Junior. The SDO says investigations into the matter are ongoing at the Sangmelima Gendarmerie Brigade.
In a separate incident same Wednesday, SDO Koulbout Aman David says a motorbike thief was caught red-handed by elements of the Sangmelima Central Police Station at a place called AN 2000 (Year 2000). The bike thief, Amidou Djoutambou is said to be under police custody as investigations continue.
Reports suggest that a group of young men said to be bike riders, armed with clubs, stormed the Sangmelima Central Police Station where the bike thief is detained spoiling to execute mob justice. As a result of the uproar, some vandals looted shops in the town, bringing activities in the town to a halt.
The Senior Divisional Officer of the Dja and Lobo Division says elements of law and order were deployed in their numbers and clam has been restored in Sangmelima.
Koulbout Aman David has called for calm, denying claims that there is an inter-tribal problem brewing in Sangmelima. He says the population should remain patriotic and go about their routine activities while the arm of the law grinds. The administrator in his communiqué says the "living together" preached by President Paul Biya should be exemplified in Sangmelima.