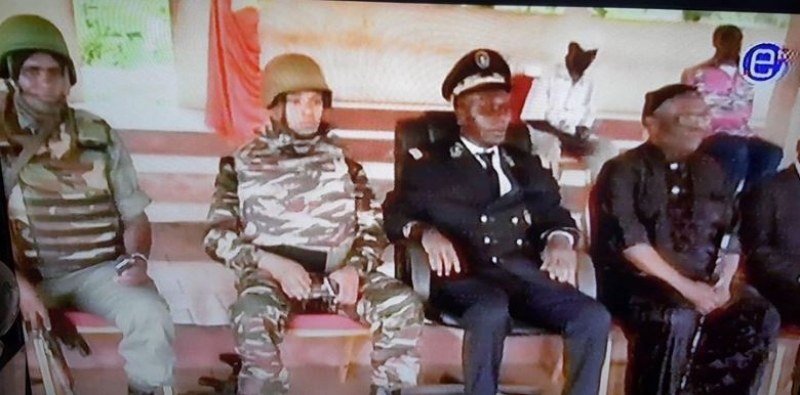 Celebrations marking the 46th edition of National Unity, on May 20 recorded a timid turnout in all march-past grounds in the two English speaking regions of Cameroon. But the atmosphere in Tombel was more of a battle field than a ceremonial ground, as armed men were engaged in gun battles with Security forces for more than Four hours.
The exchange of shots began as early as 8:30 AM when Ambazonia fighters stormed Tombel town shooting in the air to scare locals from going to the ceremonial ground. The Divisional Officer, Leonard Nyam immediately alerted security forces who responded with fire-for-fire holding hostage the town for over 4 hours, during which several persons fled into bushes while others remained indoors. The consequence of these shootouts was a timid turnout during the march past as no civilian, not even the ruling CPDM party took part in the event. The grandstand was empty and only occupied by soldiers and administrative authorities.
According to the Divisional Officer, Leonard Nyam, by disrupting the May 20 event, Ambazonia fighters just signed their death warrants. He said no matter the situation of the country, upsetting the day was in total contradiction to the idea of celebrating unity in diversity.
In Ekona, Muyuka Subdivision in the South West region, Ambazonia fighters stormed the Police Station and killed the Police Commissioner of the locality. They also destroyed properties in the Station before disappearing.
In Batibo Subdivision, Momo Division, North West region, the confrontation was fierce, leading to deaths of three fighters. They met face-to-face with Soldiers around the Bridge linking Batibo and Bali Nyonga. Four civilians were also killed during the shootout but this reporter cannot tell the number of casualties on the part of the Military.
Places like Buea,Bamenda, Kumba,Kumbo,Mamfe,Limbe all witnessed a low key celebration and in most of these areas, Military Parade were the halmarks of the events.
Auteur: