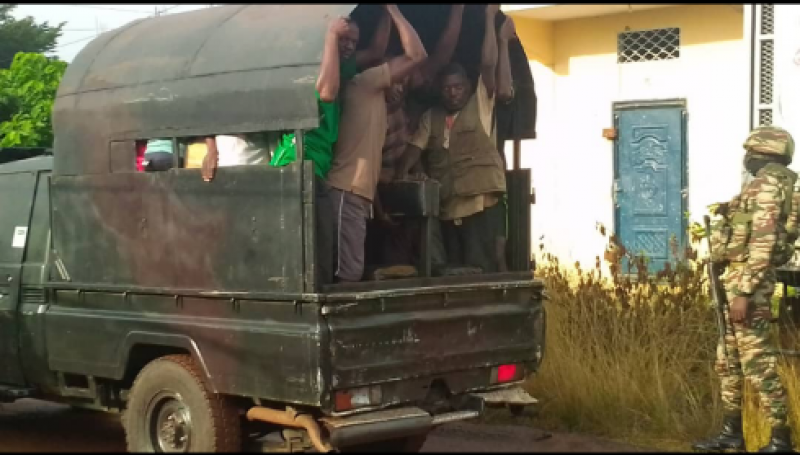 Security forces launched a broadside in Muyuka Thursday, arresting hundreds of persons as part of investigations into the murder of a lady on Tuesday by separatist fighters.
The operation comes after a crisis meeting Wednesday during which South West Governor, Bernard Okalia Bilai promised the family of the murdered lady that the culprits will be tracked down and punished.
Law enforcement authorities are said to have combed the nook and cranny of Muyuka Subdivision, expanding their dragnet beyond the Makanga neighbourhood where armed men tied and hacked a lady to death with a machete.
Eyewitness accounts say hundreds of persons have been arrested and transported to the Gendarmerie Legion in Buea where they will be interrogated.
"I'm on my way to Kumba. In Muyuka, men and women, young and old are piled in trucks at gunpoint. Tens of military men are gathered along the road carrying heavy armour," journalist Kwoh Elonge posted on Facebook. "You see the fright in the eyes of these civilians. They know they are the collateral of a gruesome crime committed by deranged, brainwashed, young men!"
Cameroon-Info.Net understands that on Tuesday, August 11, 2020, separatist fighters kidnapped Bih Blanche Chi alias Bebe, a 35-year-old mother of four in Muyuka on allegations of being an informant for the state forces.
In a video recorded by the armed men, the lady pleaded her innocence. She revealed that a soldier was asking her out, the reason why she had been seen with soldiers.
But it seemed the armed men had already resolved to kill the defenceless lady even before listening to her. She was thus hacked twice with a machete and her body abandoned in the middle of the Buea-Kumba highway.
Lucas Ayaba Cho, leader of the Ambazonia Governing Council that owns the Ambazonia Defence Forces (ADF) says those who killed the lady in Muyuka were indeed separatist fighters.
"This lady is an innocent woman mistaken for a spy and shamelessly killed. We know who the killer is and the code of conduct under which he operates must be applied. It's a sister force and we are in talks for actions to be taken," he said.