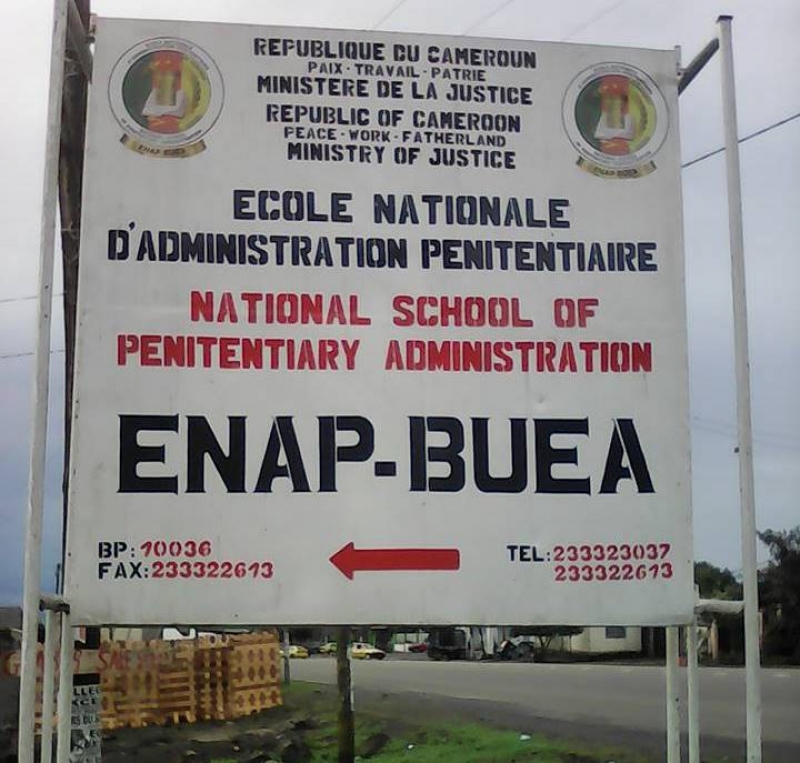 The Buea-based National School of Penitentiary Administration (ENAP) has turned out 119 fresh staff for Cameroon's prisons. The graduates belong to the 12th batch of student prison warders and 19th batch of trainee chief warders.
The Secretary of State at the Ministry of Justice in charge of Penitentiary Administration, Doh Jerome Penbaga, chaired the graduation and epaulette award ceremony on May 25, 2019, at the Buea ceremonial ground at Bongo's Square.
Penbaga addressed the new Penitentiary Officers assuring them of Governmental hierarchy support in their duties and stressed on discipline, The Secretary of State reminded the public of the necessary reforms already contemplated to fortify the Prisons staff and give them impetus for a better handling of incarcerated persons.
His words: "Among the functions of the Chief Warders is the normal upkeep of prisoners, training them in their eventual reintegration into society. We reminded them of the new challenges in the prisons which comes with all what we know in the society – terrorism and so on, where radicalization is taking a very high proportion and they are challenged now to learn new methods of handling inmates and making them to be good citizens tomorrow.
"It is a very challenging task. I also highlighted the context of overcrowding in our prisons. I told them to be very astute, Imaginative and above all, very disciplined. Their training included new techniques of handling inmates. Some of them will be sent to work in very difficult parts of the country because of the context of what we know in the North West, South west and Far North regions."
Presenting the Penitentiary School and their graduates, the ENAP Director, Ngangjoh Mama Lamya, explained that the graduating prison warders and chief warders went through the requisite training and are now fit to serve the country diligently.
The Director emphasized that those graduating had undergone serious academic and military training blended with practical work carried out in prison institutions around the country.
He reminded the graduating prison staff that prisoners are placed under their care "as punishment and not for punishment". This signals the need to respect human rights and the training of inmates for reconversion after their prison terms.
The graduates of ENAP are being sent to the field of work at a time when public order is being threatened, insecurity is heightening and the social and economic order is suffering a nose-dive. Therefore, discipline and professionalism remains the buzzword as stressed by authorities.