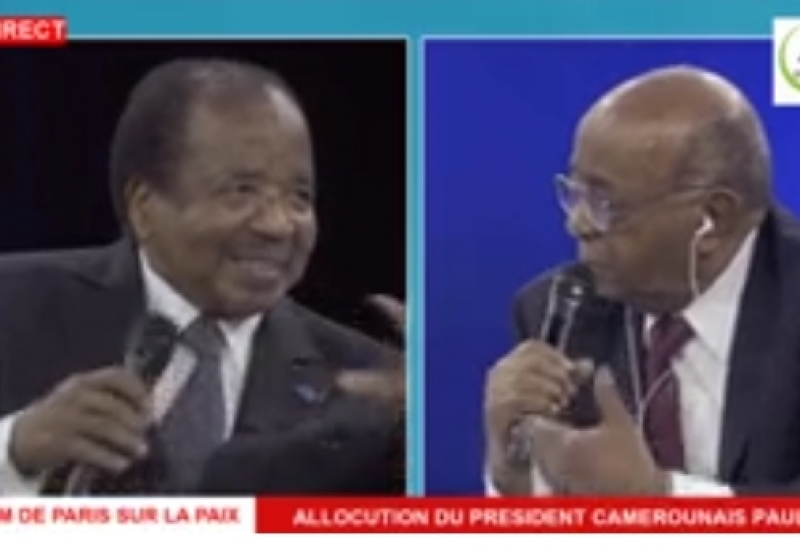 Some English-speaking Cameroonians have taken to social media, calling an outing of its President 'humiliating', as he fails to answer a question posed in one of his official languages.
During a political debate led by business tycoon Mo Ibrahim, Biya was questioned on peace efforts in Cameroon in English language. Unfortunately, the question came at a time when President Paul Biya' s headset had a technical problem and he couldn't get an interpreter's voice.
The president bluntly said he wasn't getting anything from the question asked by Mo Ibrahim because his headset was bad. The silence went for some few minutes with the host apologising for the technical break.
However, some critical Anglophones have been sharing extracts of the clip, with some titled "what a shame that the president of a bilingual country needs an interpreter for one of the official languages". Another person said "This is indeed shameful. So a president from a bilingual Cameroon does not understand English?".
During his 37 years in power, he has barely spoken few words in English and this has often made his critics say he can not claim to place structures and institutions in the country to implement bilingualism, when he doesn't master both official languages.
One of the concerns raised by separatists is the fact that they feel distanced from a Head of State, who doesn't understand their problems. Cameroon has a bilingualism and multiculturalism institution, set up by Biya on the heels of the Anglophone Crisis.
There have been some light changes these days as more state documents are now dispatched in both languages, while state actors now brave odds to express themselves in both official languages.