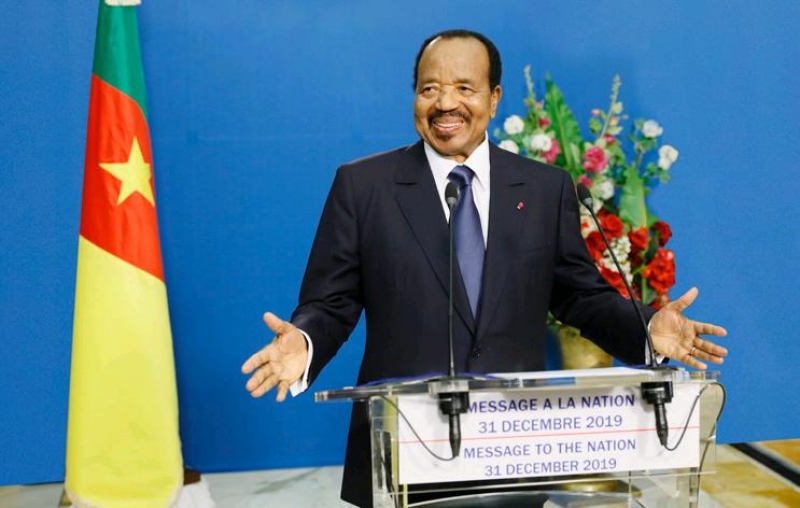 In a report on April 2, 2020, Jeune Afrique, the French-language pan-African weekly news magazine published a report on how African leaders like Paul Biya, Alassane Ouattara, Felix Tshisekedi and others are protecting themselves from the coronavirus pandemic.
Jeune Afrique posits that as the Covid-19 epidemic spreads across the continent, African heads of state are careful to protect themselves from the virus. In presidential palaces, numerous measures have been taken to ensure their personal safety, as well as that of their staff.
"Only a privileged few can still talk to them. How do we now access Paul Biya, Alassane Ouattara, Ali Bongo Ondimba, Denis Sassou Nguesso, Alpha Condé, Ibrahim Boubacar Keïta, Paul Kagame, Mohamed Ould Ghazouani or even Macky Sall?"
About Cameroon's President Paul Biya, Jeune Afrique notes that his last public appearance dates back to March 11, 2020 when he received at Unity Palace, Peter Henry Barlerin, the United States' ambassador to Cameroon with whom he assessed the fight against the Coronavirus disease (COVID-19) and HIV/AIDS.
"Unlike the vast majority of other heads of state in the region, Paul Biya did not speak to his compatriots to announce measures to fight the epidemic. Only the Prime Minister, Joseph Dion Ngute, and the Minister of Public Health, Malachie Manaouda , communicate on the health crisis," Jeune Afrique furthered.
"His absence also aroused opposition criticism and alarmist rumours about his state of health. But, according to our information, the Cameroonian president is not positive for Covid-19."
President Biya had on March 17 taken to social media to call for a renewed sense of citizenship, courage and sense of responsibility in containing the spread of the novel coronavirus.
His words: "Dear compatriots, the world is facing a serious and unprecedented health crisis. It will affect our daily lives and economy. I urge you to strictly respect the guidelines of the Government and WHO [the World Health Organization]. Together, let's bar the spread of the coronavirus. I count on your citizenship, courage and sense of responsibility."
The closing of the country's borders and the shutting down of schools that took effect on March 18, 2020 are among 13 measures taken to contain the spread of the novel coronavirus including restricting gatherings of more than 50 persons, checking overloading in buses, taxis, motorbikes and the systematic closure of bars, restaurants and entertainment spots after 6p.m. daily.
On April 1, 2020, the extension of the measures announced on March 17 for a 15-day period followed the creation of a National Solidarity Fund to help Cameroon fight the virus. The country's Head of State, President Paul Biya ordered the disbursement of FCFA 1 billion to the fund. At least FCFA 770 million has been received from people of goodwill and corporate bodies.
As we went to press, Cameroon had reported 509 positive cases of COVID-19, 17 cured and 08 deaths.