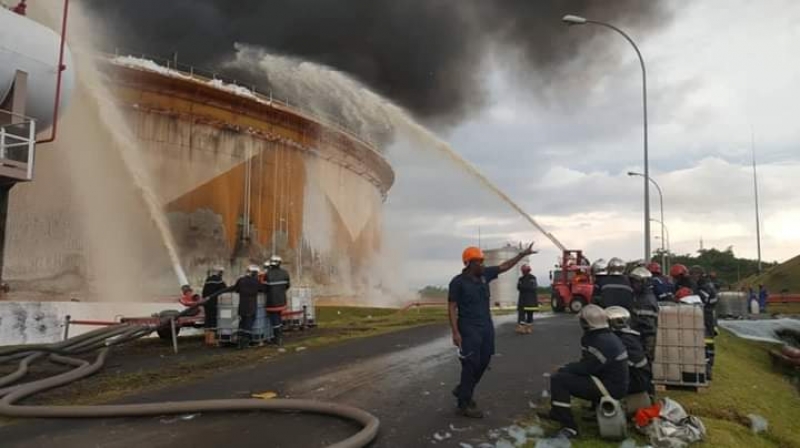 Cameroon's Prime Minister, Head of Government Chief Dr Dion Ngute Joseph has decreed a technical commission of inquiry to identify the cause(s) of the May 31, 2019 fire outbreak at the National Refining Company, SONARA.
The committee headed by Water and Energy Minister Gaston Eloundou Essomba is also expected to propose measures to prevent the risk of such a disaster in future.
The Prime Ministerial decree was signed Tuesday, June 11, 2019 on the instructions of the President of the Republic, Head of State Paul Biya.
The Head of Government also charged the commission to establish responsibilities inherent in the fire and evaluate the management of the fire and make any relevant proposals.
The commission has been given 30 days from the day it was created to forward its report to the Prime Minister, Head of Government.
The Eloundou Essomba commission has members from several government departments including the Ministries of Mines, Industries and Technological Development, Territorial Administration, Trade, Justice and Defence. The services of the Presidency of the Republic, National Security, National Gendarmerie and the Prime Minister's Office are among those expected to provide technical knowhow to the inquiry team.
Preliminary investigations had attributed the fire outbreak at SONARA to a technical fault, the Minister of Communication Rene Emmanuel Sadi said hours after the unfortunate incident. He also announced that renovation works will last for close to a year, but maintained that the facility will remain operational.
Trade Minister Luc Magloire Mbarga Atangana also gave assurances that the prices of petroleum products will not be affected by the accident, citing measures put in place by government to ensure a steady supply.
According to Jean-Paul Simo Njonou, General Manager of SONARA, the fire outbreak started between 9:00pm and 10:00pm on Friday May 31, 2019. Four out of the 13 production units at SONARA went up in flames provoking the General Manager to declare a 'force majeure' that necessitated the suspension of operations.
Experts suggest that the government may have to cough out between FCFA 500 to FCFA 750 billion to repair the damage. Cameroonians are now looking up to Minister Eloundou Essomba and his team to present a detailed report of the situation in under a month.