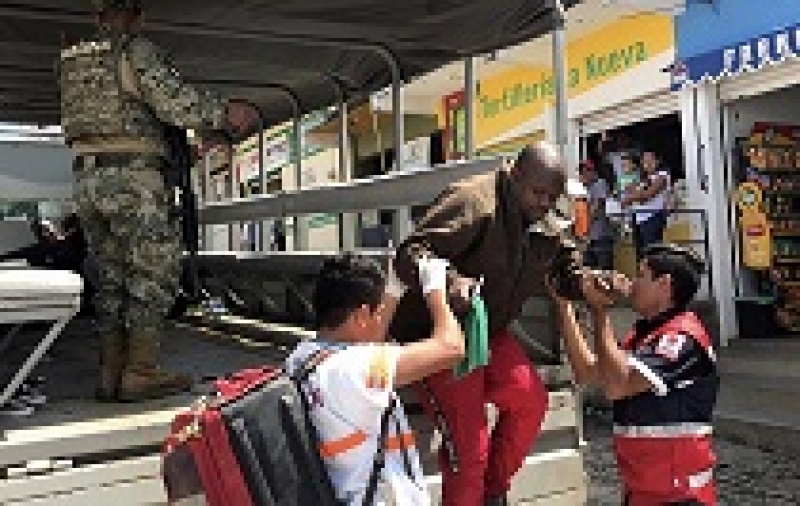 Authorities in Mexico say at least one man has died after a small boat filled with migrants from Cameroon, capsized off the Pacific coast of Southern Mexico on Friday, October 11.
According to Los Angeles Times, two passengers were still missing. The boat is said to have come from nearby Guatemala, as smugglers avoid land to smuggle migrants.
Some Eight other Cameroonians (seven men and a woman), survived and were treated in an area hospital and released. Mexican authorities questioned them, to determine where the boat was coming from.
They are; Nsame Magnus, Ellondem Derrick Agendia, Werewai Godden Mibah, Agbor Aaron Agloor, nchonganyi Elvis Fomenkem, Achengangap Maxcellus Asong, Nde Clinton Ngang, and Tohnyi Constant Djuawoh. The picture of 39-year-old Emmanuel Cheo Ngu who died in the incident is being circulated on social media.
Reports say immigration authorities in Costa Rica had issued Emmanuel Cheo a transit visa on Sept. 6 that gave him 25 days to pass through that Central American nation, according to a document made public in Mexico.
Hundreds of Cameroonian migrants trying to get to the United States have been stranded in southern Mexico. Under pressure from US President Donald Trump, Mexican authorities have refused to issue them transit visas to continue North.
For years, smugglers have transported migrants in boats along the Pacific coast to points north of Chiapas, which has a heavy presence of police, soldiers and immigration agents tasked with deterring illicit migration.
Stranded African migrants have staged angry demonstrations in the southern Mexican city of Tapachula and have camped in protest outside Mexico's federal immigration lockup there. Most had flown to Ecuador or other places in South America and made their way overland to Mexico.
Cameroonians represent the largest group among the African migrants arriving in Mexico. Many are part of that country's English-speaking minority and say they face repression from a government dominated by the French-speaking majority.