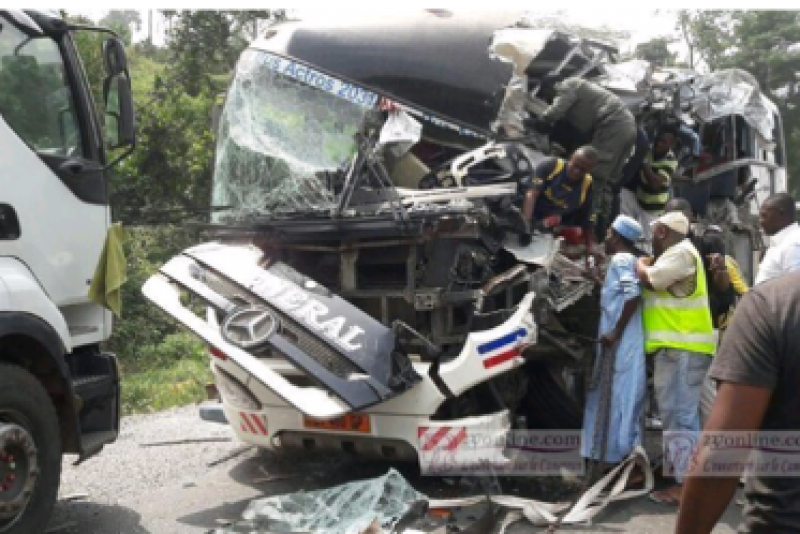 No fewer than seven persons are feared to have died in an accident along the Douala-Yaoundé highway around Boumnyebel Monday, July 1, 2019.
Though officials are yet to react to the accident, sources say it involved an inter-urban transport bus belonging to "General Express Voyages" and a bus branded Toyota Hiace.
The inter-urban bus which was driving from Douala to Yaoundé is said to have collided with the Hiace bus around Boumnyebel, leaving at least seven dead and many injured.
Seven people were confirmed dead on the spot amid fears that the death toll may rise as other accident victims suffered severe injuries.
The cause of the accident is yet to be established by the competent authorities, but eyewitnesses say the 70-seater bus met face-to-face with a mini bus heading to Douala from Yaoundé. The Yaoundé bound vehicle was reportedly trying to escape a gendarmerie pick up when it collided with the mini bus.
The victims have been taken to nearby hospitals where they are receiving treatment, while the corpses have been taken to the morgue. Traffic has also been restored.
Today's accident comes one week after that along the Bafoussam-Douala highway last June 23, 2019 in which 21 persons died.
The accident occurred near Baham in the Upper Plateux Division of the West Region of Cameroon along the Batié-Baham stretch of the Bafoussam-Douala motorway.
Eyewitness accounts say it was about 4:00pm Sunday that the incident occurred at a locality near Baham. A 30-seater bus with registration number NW284 AF belonging to SINCERITE Travel Agency heading to Douala collided with a truck with registration number OU 629 AO. Witnesses said excessive speed and carelessness on the part of the bus driver are to blame for the bloody accident.
Road accidents in Cameroon account for an average of 1200 deaths every year with material damage estimated at over CFAF 100 billion, the Ministry of Transport revealed late last year. According to a statement by the ministry issued while marking second anniversary of "Road Safety Communication Days", such accidents result in 4,000 to 5,000 injuries, including dozens of people disabled for life. The Douala-Yaoundé and Yaoundé-Bafoussam-Douala axes are the most accident-prone, with nearly 70 percent of accidents, the statement said.
It added that despite the multiplication of road safety and prevention campaigns, road accidents have increased to become one of the main causes of death in Cameroon, after malaria, cancer and deaths related to cardiovascular accidents (CVA).
For the NGO SECOUROUTE specialized in road safety, most accidents are caused by speeding, hazardous overtaking, vehicle condition and roads and other factors related to fatigue and distractions while driving.