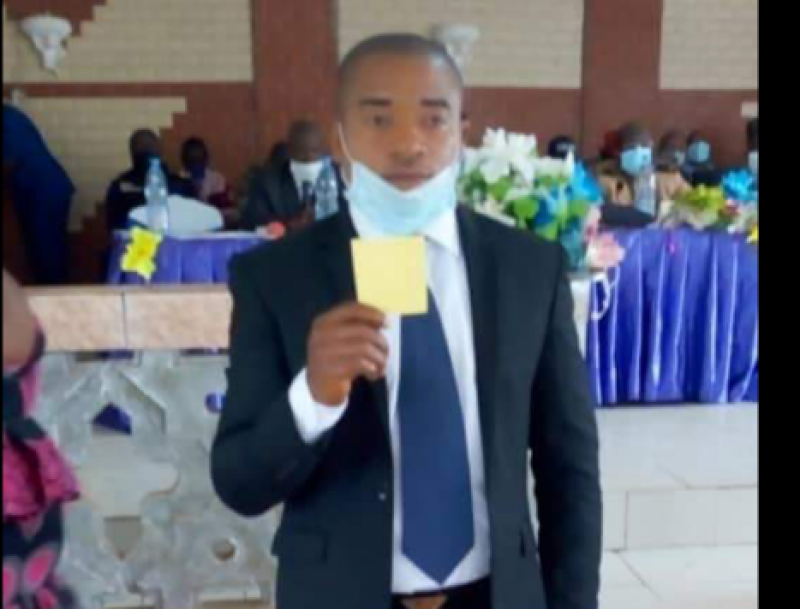 Tabenchung Robinson Ashu alias Tabe Mbella is the new Mayor of the Mamfe Council, Manyu Division of Cameroon's South West Region.
He was unanimously elected Tuesday, June 30, 2020 at the Mamfe Council hall during an extraordinary session.
Born in 1982, the native of Eshobi replaces his fellow village man, Ashu Prisley Ojong, murdered by armed separatists on May 10, 2020.
The late Mamfe Mayor, reports say, was shot and killed around Berore quarters, precisely at Charles Eyongechaw's Hill, about some 500 meters before entering Eshobi, his hometown, on Sunday, May 10, 2020,
His death was received with shock, forcing the population to stage a protest Saturday, May 16, 2020, demanding justice for the Mayor's death. They accused a Cameroonian-US based activist, Eric Tataw for being behind the brutal assassination. Traditional powers have since been evoked to avenge the killing.
Ojong was heading to his village to receive Ambazonian fighters who claimed they had dropped their weapons before he was brutally ambushed and murdered. "He received a bullet on the head fired by the enemy using an automatic weapon of the AK47 brand and died on the spot. In the same vein, two elements of the defense forces who were escorting the Mayor were also severely wounded and immediately rushed to the Mamfe District Hospital for emergency medical assistance," said Bernard Okalia Bilai, governor of Cameroon's South West Region.
The 35-year-old politician was buried at his residence in Laterite Pit in Mamfe Town Saturday, June 6, 2020. It followed an official funeral at the Mamfe Grandstand attended among others by Mengot Victor Arrey-Nkongho, Minister in charge of Special Duties at the Presidency of the Republic, who represented the Head of State President Paul Biya.
Mengot called on the people of Manyu to show their commitment to peace and a united Cameroon.
"When things like this happen, then love doesn't exist. When you love each other, you cannot hurt each other. Today, what do we find in our communities – petty jealousies envy. That is why we need to find that ethos, the ethos of how to love one another," said Special Duties Minister Mengot.
Manyu Senior Divisional Officer Um II Joseph said although Mayor Ashu Prisley Ojong has been killed, they are "hopeful that his death will be useful for this division, for peace to reign and for unity also to reign."